Incitement
Trump signs into law bill slashing PA funds over terrorist stipends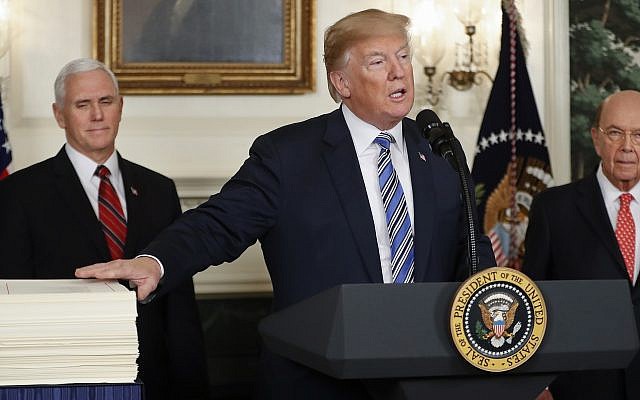 WASHINGTON — US President Donald Trump signed into law on Friday legislation that cuts some aid to the Palestinians until they end stipends to terrorists and the families of slain attackers, as he approved a massive $1.3 trillion omnibus spending bill.
The Taylor Force Act, which was named after a former US army officer who was stabbed to death by a Palestinian terrorist while visiting Tel Aviv, was included in the legislative package.
The law will halt US funding to the Palestinian Authority until Ramallah stops issuing such payments. But it includes three exceptions, allowing for US funding to Palestinian water and childhood vaccination programs, as well as to East Jerusalem hospitals.
On Friday morning, Trump tweeted that he was "considering" vetoing the budget bill, since it didn't include full funding for the US-Mexico border wall, but he then orchestrated a news conference announcing he would sign it.
Up until Friday, Trump had not yet explicitly stated whether he would sign the Taylor Force bill into law, though a White House official told The Times of Israel in July that the president supports its principal objective.
One of the Taylor Force Act's authors, Sen. Lindsey Graham, a Republican from South Carolina, thanked the family and friends of Taylor Force, who lobbied Congress to pass the bill and include in the omnibus.
"I truly appreciate the hard work of the Force family and the many friends of Taylor Force who made it clear to Congress the practice of #PaytoSlay must be stopped," he tweeted, hours before Trump signed it into law.
The Palestinian Authority of President Mahmoud Abbas condemned it and vowed to continue paying families of "martyrs and prisoners."
Yusef al Mahmoud, spokesperson for the PA government in Ramallah, said that the US should instead have called for "ending the occupation and suffering of the Palestinian people."
Congress, he added, should also  make aid to Israel conditional on "ending its occupation and settlements because it's the occupation that is responsible for killing our people and throwing them into prison."
The spokesperson said that the "martyrs and prisoners are, in the eyes of our people, sacred symbols of freedom and struggle and opposition to humiliation and surrender."
Read More: Times of Israel