Jerusalem
Trump to recognize Jerusalem as capital, plan embassy move, White House confirms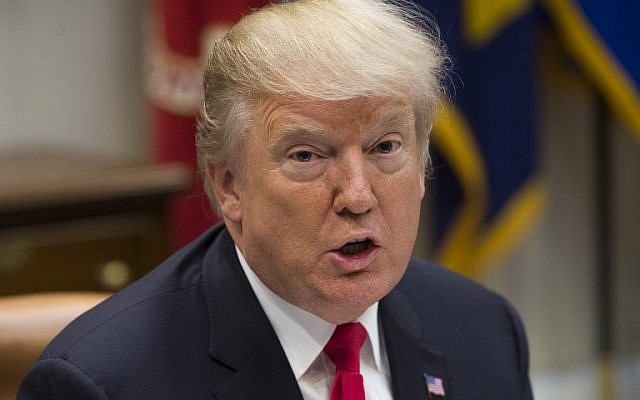 WASHINGTON — US President Donald Trump will announce in a speech on Wednesday that he is formally recognizing Jerusalem as Israel's capital, while asking the State Department to formulate a plan for moving the US embassy there from Tel Aviv, White House officials confirmed Tuesday evening.
The recognition of Jerusalem, widely expected to anger the Arab world and cast a shadow over US-led peace efforts, will also be accompanied by Trump committing to support a two-state solution should both Israel and the Palestinians back it, the officials said, in a likely bid by the administration to balance the announcement seen as heavily favoring Israel.
"On December 6, 2017, President Trump will recognize that Jerusalem is the capital of Israel," one official said, confirming a series of reports on Trump's planned speech from the White House, slated for 1 p.m. Wednesday ( 8 p.m. in Israel). The officials spoke on the condition of anonymity.
The White House repeatedly referred to the recognition and embassy move, which will likely take years, as "acknowledging a reality," noting the city's role as the seat of Israel's government but disregarding Palestinian claims there.
"He views this as a recognition of reality, both historic reality and modern reality," one official said.
"While President Trump recognizes that the status of Jerusalem is a highly sensitive issue, he does not think it will be resolved by ignoring the truth that Jerusalem is home to Israel's legislature, it's Supreme Court, the Prime Minister's residence, and as such, it is the capital of Israel," one of the officials said.
The announcement will mark a major milestone for Israeli efforts to gain international legitimacy for their claim on Jerusalem. Israel calls Jerusalem its undivided capital, but the international community has refrained from recognizing it as such pending final status negotiations with the Palestinians, who claim the eastern half of the city as their own seat of power.