US-Israel Relationship
Trump on anniversary of Jerusalem embassy move says it's 'a proud reminder' of strong US-Israel ties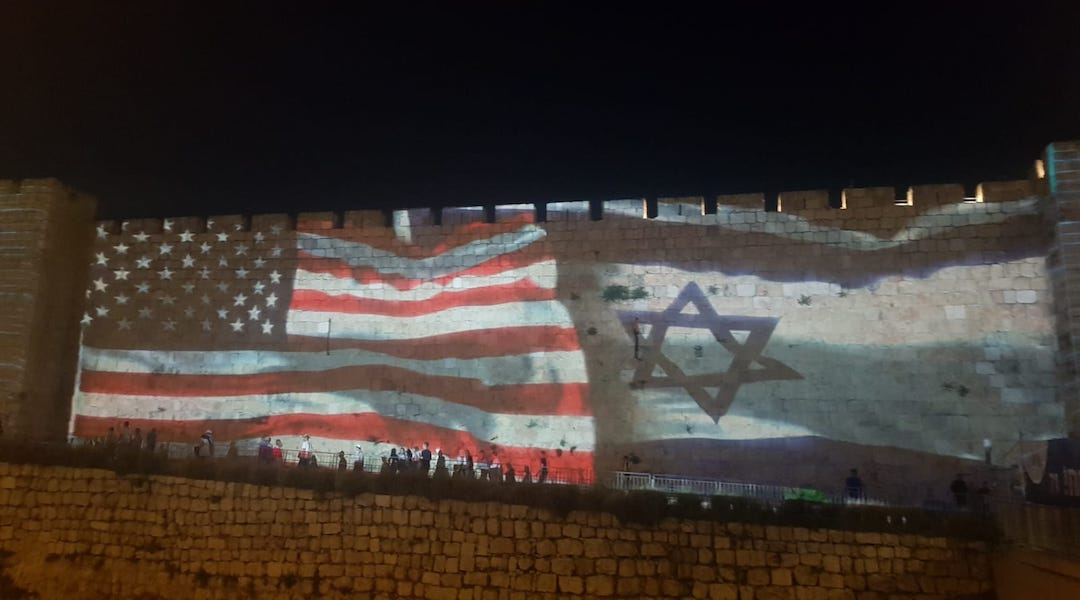 (JTA) — One year after the United States moved its embassy to Jerusalem, President Donald Trump called it "a proud reminder of our strong relationship with Israel."
Trump referenced the anniversary in a tweet Tuesday.
The Jerusalem municipality marked the date by projecting Israeli and American flags onto the walls of the Old City.
The anniversary gave rise in the Israeli media to both celebration and articles exploring the effects of the embassy opening. Critics had predicted the move would lead to an increase in violence in the already tense region, although defenders of the move said no such backlash came about. The last year did however see deadly riots at the Gaza border and this month's rain of rocket fire by the Hamas and Islamic Jihad terrorist groups.
The U.S. ambassador to Israel, David Friedman, wrote in Israel Hayom that the move "places the United States firmly on the right side of history."
"Contrary to all the negative predictions, the Jerusalem embassy has been an extraordinary success, advancing peaceful coexistence, bilateral cooperation and cultural exchange between and among Israelis, Palestinians and Americans," Friedman said in the article published Sunday.
Read More: Jewish Telegraphic Agency