US-Israel Relationship
Trump makes history as first serving US president to visit Western Wall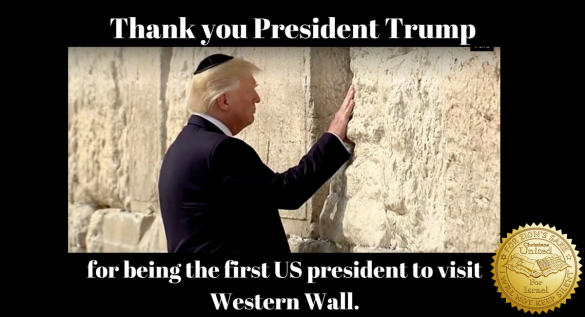 Fifty years after Israel captured the Western Wall, US President Donald Trump on Monday became the first sitting American leader to visit the holy site, in a historic visit that saw him accompanied by his Jewish relatives in Jerusalem's ancient Old City.
Entering the Old City's warren of alleyways on Monday — on lockdown by police for his visit — Trump and his wife Melania met the heads of various Christian denominations and began their tour at one of the holiest sites in Christianity, the Church of the Holy Sepulchre, believed by Christians to be the site of Jesus' crucifixion, burial and resurrection.
Security camera footage showed the US entourage, numbering hundreds of people, strolling through the ancient city's alleys from Jaffa Gate to the holy Christian site under unprecedented security.
The US president was greeted outside the ancient church by the Armenian and Greek Orthodox patriarchs of Jerusalem. After briefly stopping to be photographed, he entered the building, along with his son-in-law and daughter, Jared Kushner and Ivanka Trump.
From there, the US delegation walked back to Jaffa Gate, where they entered the convoy of dozens of vehicles to drive to the Western Wall.
Read More: Times of Israel