US-Israel Relationship
Trump demands Turkey halt Syria incursion, authorizes new sanctions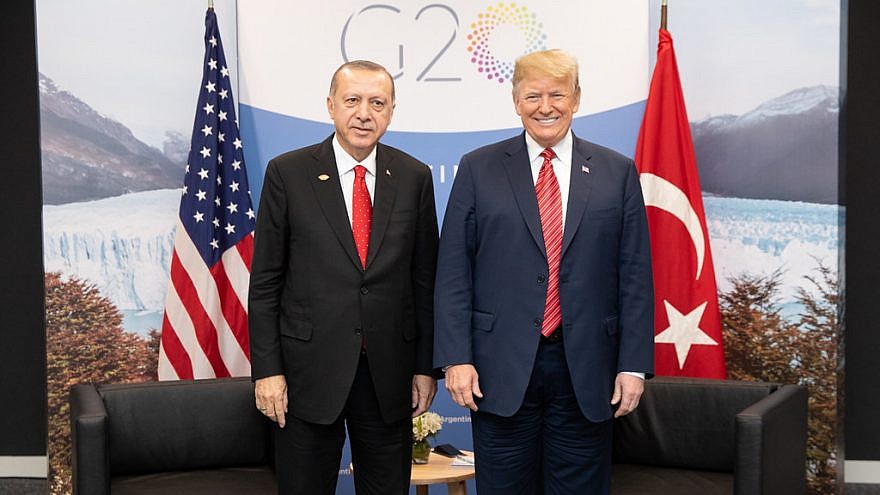 (October 15, 2019 / JNS) U.S. President Donald Trump on Monday called on Turkey to immediately halt its offensive in northern Syria, and authorized new sanctions against the NATO member state. Treasury Secretary Steven Mnuchin said the United States had imposed sanctions on Turkey's ministers of defense, interior and energy, as well as their departments.
Trump said in a statement that he had also raised tariffs on imports of Turkish steel back up to 50%, six months after they were reduced, and would immediately stop negotiations on what he said was a $100 billion trade deal with Turkey.
"Unfortunately, Turkey does not appear to be mitigating the humanitarian effects of its invasion," said Trump.
Turkey invaded northern Syria on Wednesday, just days after Turkish President Recep Tayyip Erdoğan told Trump in a phone call that he was going ahead with a long-planned move against America's Kurdish allies in the region.
In what was widely seen as a green light for the Turkish assault, Trump abruptly announced a redeployment of 50 American troops from the conflict zone. While the pullout drew praise from those who want to see an end to U.S. military involvement in regional Middle Eastern affairs, others criticized Trump for what they said was a betrayal of America's Kurdish allies, which they argued could pave the way to an Islamic State resurgence.
"After defeating 100% of the ISIS Caliphate, I largely moved our troops out of Syria. Let Syria and Assad protect the Kurds and fight Turkey for their own land. I said to my Generals, why should we be fighting for Syria and Assad to protect the land of our enemy?" Trump tweeted on Oct. 14, referring to Syrian President Bashar Assad. "Anyone who wants to assist Syria in protecting the Kurds is good with me, whether it is Russia, China, or Napoleon Bonaparte. I hope they all do great, we are 7,000 miles away!"
Since the Turkish assault began, Syrian Kurdish military personnel have been forced to reduce the number of guards at prisons in which thousands of ISIS fighters are incarcerated, and according to multiple reports numerous ISIS fighters have been able to escape as a result.
In addition, Kurdish border cities have begun inviting troops loyal to Assad to enter, under an agreement brokered by Russia, leading to fears that the war could come to involve Russia and Iran, another of Assad's primary backers.
U.S. Vice President Mike Pence, who said he will head to the region soon to attempt to mitigate the rising tensions, said "President Trump communicated to [Erdoğan] very clearly that the United States of America wants Turkey to stop the invasion, implement an immediate ceasefire and to begin to negotiate with Kurdish forces in Syria to bring an end to the violence."
"The United States of America simply is not going to tolerate Turkey's invasion in Syria any further. We are calling on Turkey to stand down, end the violence and come to the negotiating table," Pence told reporters, according to Reuters.
Read more: Jewish News Syndicate