US-Israel Relationship
Trump: Ask me in month about moving embassy to Jerusalem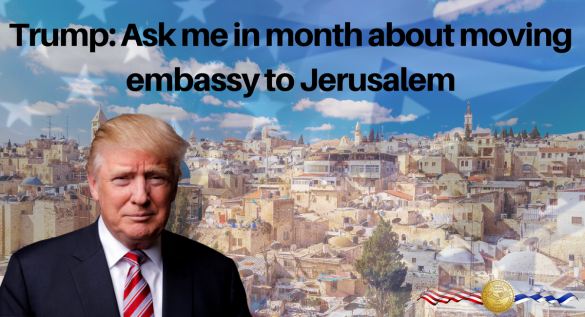 US President Donald Trump refused to confirm reports that he would announce the transfer of the US Embassy from Tel Aviv to Jerusalem during a visit to Israel next month, but hinted Thursday that he may clarify the issue at that time.
On Thursday, Florida Rep. Ron DeSantis (R), who earlier this year led a one-man fact-finding trip to scout locations for the embassy, said Trump would announce the relocation when he visits Israel at the end of May, fulfilling a campaign promise he appeared to walk back after assuming office.
Asked about the relocation by Reuters, Trump demurred.
"Ask me in a month on that," he told the news agency.
Trump also appeared to express frustration that Israelis and Palestinians continued to not have a peace deal, saying there was no reason for the conflict to persist.
"I want to see peace with Israel and the Palestinians," he said. "There is no reason there's not peace between Israel and the Palestinians — none whatsoever."
Trump has said several times that he would work to broker an agreement to end the decades-old conflict, citing his business acumen and saying peace would be "the ultimate deal."
He is due to meet Palestinian Authority President in Washington early next month.
Trump had also promised during his campaign to move the embassy, but has yet to follow through, with initial excitement in Israel dampening as the administration said it was only starting to explore the issue.
Read More: Times of Israel