Israeli Technology
Treating wounded Syrians who arrive in Israel is 'holiest of holy'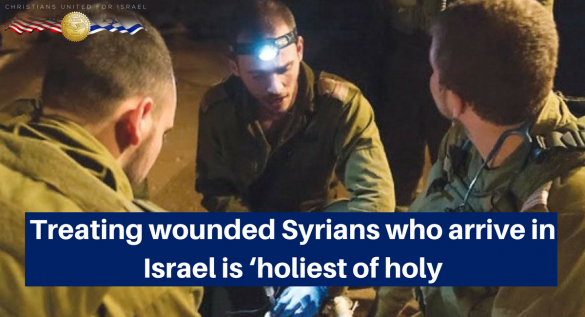 s the brutal war across Israel's northern border rages on, Syrians desperate for medical care continue to make the treacherous journey to the border of a country they were raised to see as their enemy.
While Israel has largely stayed out of the fighting on it's northern border, more than 3,000 Syrians have been treated here in the four years since the IDF began allowing in the wounded who make their way to the border.
Those who arrive at the Syria-Israel border, both combatants and civilians, are given emergency field treatment to stabilize them before the IDF transfers them to medical centers, where medical care is provided free of charge and patients are treated under strict anonymity out of fear that they and their families could be targeted in Syria if their time in Israel becomes known.
While most are transported by ambulance to Nahariya's Western Galilee Hospital or Ziv Medical Center in Safed, there have been several times that medical officers have called in helicopters to transfer patients with extreme injuries who could only be treated in hospitals in the center of the country.
According to Captain Aviad Camisa, deputy chief medical officer of the 210th Bashan Division, while troops do intensive checks of patients – because the safety of soldiers is paramount – "the holiest of holy" is to provide medical care to those who need it, especially those who come from a place where even children are targets.
More than 25% of the wounded treated here have been women and children, Camisa told The Jerusalem Post.
"We are doing the best that we can in this situation. We give the fastest and best care with the most advanced equipment, but sometimes there is nothing we can do," he said, noting that there have been many cases of children with bullet wounds or blast injuries but has not seen any wounds from chemical weapons.
Read More: J Post