Israeli Technology
Toyota research arm takes first step into Israel's start-up scene with investment into robotics for the elderly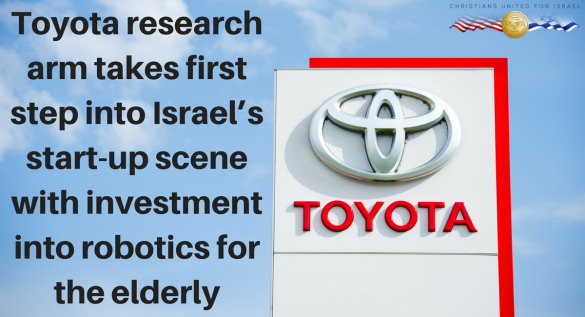 Toyota's research arm has just announced itself on the Israeli start-up scene, confirming on Tuesday that it has led an early-stage funding round in Israel's Intuition Robotics.
Toyota Research Institute, TRI, the automaker's initiative in artificial intelligence, autonomous driving and home robotics, has a treasure chest of $1 billion and says it has led a $14 million series A round investment in the Israeli company.
"This investment is our first Israeli company, it will not be our last," TRI's Vice-President for Data and Business Development, Jim Adler, told CNBC.
"We're looking at Israeli start-ups across the board, from robotics, autonomy, data cloud, general artificial intelligence, deep learning."
TRI, set up in 2016, is part of a big push by Toyota into artificial intelligence for autonomous driving and home robotics with an emphasis on robotics for the elderly, the field in which Intuition Robotics is active. The Japanese automaker last month, said that it is considering more active strategies into autonomous driving, including mergers and acquisitions.
While TRI is based in the U.S., its interest in Israel reflects the changing Israeli-Japanese relationship over the last couple of years. Japan and Israel signed new business and cybersecurity agreements in May this year that are intended to double trade, which stood at some $3 billion in 2016, officials said.
"We're quite bullish on Israel," said Adler. TRI's interest in home robotics, with an emphasis on the elderly, flowed naturally from the autonomous driving push, he explained: "Cars are really just robots with wheel."
With rapidly aging populations both in Japan and the U.S., the overlap between autonomous driving and robotics for the elderly, was obvious, he said.
"One of the first things an older adult loses is their ability to drive and with that comes a real impact on their freedom and dignity. Accessibility to driving is really important."
Read More: CNBC