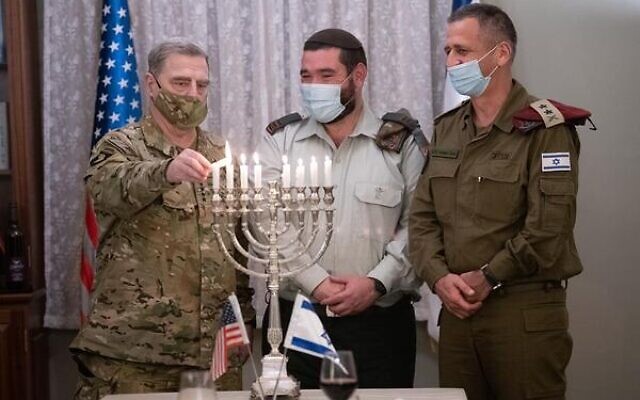 US-Israel Relationship
Top US Commander Stops In Israel On World Tour, Amid Lingering Iran Tensions
12/18/2020
US Chairman of the Joint Chiefs of Staff Gen. Mark Milley stopped in Israel on Thursday during a whirlwind tour of the region, to discuss the threats from Iran facing the Jewish state.
During his two-day visit, Milley met first with IDF Chief of Staff Aviv Kohavi on Thursday night at military headquarters in Tel Aviv, along with a number of other top IDF officers, including the defense attaché to the US, Maj. Gen. Yehuda Fuchs, and the head of the IDF's Iran Command, Maj. Gen. Tal Kalman.
On Friday morning Milley met with Defense Minister Benny Gantz and Kohavi at Gantz's office in Tel Aviv.
"During the meeting, they discussed the challenges and different changes in the operational situation in the Middle East," the defense minister's office said. "Gantz stressed to Milley the importance of continued pressure on the regime in Iran and the IDF's preparedness for all eventualities in the face of Iran's regional aggression and nuclear armament."
Milley's relatively short visit came amid lingering tensions between Jerusalem and Tehran over the killing of the head of Iran's nuclear weapons program, Brig. Gen. Mohsen Fakhrizadeh, last month, for which the Islamic Republic has blamed Israel. Iranian military officials have vowed to avenge Fakhrizadeh's death, threatening to attack both Israeli and American targets.
The chairman of the joint chiefs of staff's visit to Israel came after stops in Afghanistan, Saudi Arabia and the United Arab Emirates.
Read More: Times of Israel