Hamas
Thousands of Palestinians protest on Gaza border, 3 said wounded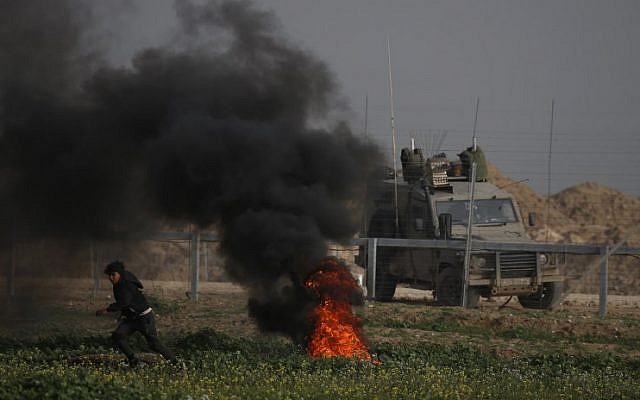 Thousands of Palestinians were demonstrating at the Gaza border on Friday as part of weekly protests, throwing rocks and explosive devices at Israeli soldiers who responded with tear gas and live fire.
The Hamas-run Gaza health ministry said at least three people were injured by live fire. Rioters were also burning tires, and trying to breach the border fence.
There were no reports of injuries to IDF soldiers.
The clashes come after a week of violence along the Gaza border.
An Israeli drone fired at a motorbike that had been used by Palestinians launching airborne incendiary devices from the southern Gaza Strip into southern Israel on Thursday, Palestinian media reported.
The Israeli military refused to comment on the reports.
According to the Hamas-affiliated Shehab news agency, the Israeli unmanned aerial device fired at the motorcycle east of the city of Rafah in southern Gaza. No injuries were reported.
Thursday's reported strike came amid a recent uptick in the number of cross-border arson attacks by Palestinians in the Strip.
On Wednesday, at least three incendiary balloons launched from the Gaza Strip landed in Israel or exploded en route, according to a Gaza-bordering local council.
A large bundled cluster of balloons carrying a cardboard model of a drone landed in a field in the Eshkol region on Wednesday afternoon, a spokesperson for the local council said. It was one of the largest airborne devices to reach Israel from the Palestinian territory in months.
Read More: Times of Israel