Hamas
The illiberal left attacks Christian Zionists again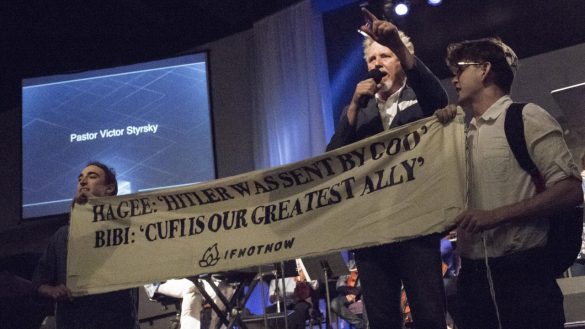 Every few years, a young far-left activist discovers Christians United for Israel (CUFI) and they are appalled. The idea of conservative Evangelicals advocating for the Jewish state runs counter to every prejudice about Christians the young advocate was raised to harbor. So the individual scours the internet, desperately hunting for that one item that will confirm their bigotry. And when they come up dry, they ignore, tinker with or amend the facts because they cannot confront a simple reality: they are intolerant of Evangelical Christians.
The latest example of this pattern is provided to us by Benjamin Koatz, who authored an op-ed in The Forward demonizing Christian supporters of Israel in an effort to justify his group, IfNotNow's decision to disrupt a pro-Israel church event. The piece does not discuss real policy disagreements with CUFI, but it makes painfully clear just how far gone are the author and his cohorts.
As part of the effort to denigrate CUFI founder and chairman John Hagee, Koatz links to a video produced by the organization We Hold These Truths. On Koatz's own blog he notes that the Anti-Defamation League (ADL) described We Hold These Truths as a "conspiracy-oriented anti-Semitic group."
It's not surprising that Koatz finds common cause with the darkest fringe groups on the internet since he believes, "This far-right Evangelical Zionist dominion still reads to me like political conspiracy theory." Nor is it surprising that Koatz's attack was published by The Forward which has an unfortunate history in this context.
While not relying on anti-Semites to substantiate his other claims, the rest of Koatz's assertions are equally absurd. We've heard them all before, and they've all been discredited.
For example, Koatz argues that CUFI's members and Hagee are anti-Semites. The opposite, of course, is true. And on the specific assertion regarding Hagee's sermon on the Book of Jeremiah, that issue was closed nearly a decade ago. In fact, at the matter's conclusion the ADL wrote a letter to Hagee noting, "We are grateful that you have devoted your life to combating anti-Semitism and supporting the state of Israel."
In addition, Koatz also goes to great lengths to argue that Christian Zionism is motivated by eschatology. This anti-Christian stereotype has been debunked in a variety of outlets including  New York Magazine. In fact, in 2011 Hagee noted the following in the very same outlet that published Koatz's appalling accusations: "The vast majority of Christian Zionists and Evangelicals do not believe there is anything we can do to hasten the second coming of Jesus. Our theology is clear that we humans are utterly powerless to change God's timetable. Yes, like many Jews we do believe that the creation of Israel was the fulfillment of biblical prophecy. And like our Jewish friends we also search the scriptures to understand what may come next in God's plans for His creation. But since we are powerless to change these plans, our motives for standing with Israel come from elsewhere."
It's plain to see that Koatz is dishonest and misguided. But what is far more troubling is that he and his group behave as if Christian Zionists do not deserve the same basic decency accorded to all other people groups.
Reasonable individuals can disagree without behaving unreasonably. Groups like Americans for Peace Now, which often disagree with CUFI's policy positions, make their case without demonizing Christian Zionists. And CUFI discusses policy on a regular basis with those who hold a different worldview. CUFI has met with leaders that span the political spectrum, from U.S. Sen. Elizabeth Warren (D-Mass.) to Vice President Mike Pence. At times we disagree and at others we find common ground,but never do we denigrate or demonize.
I'm not sure if Koatz and his group genuinely want to effect policy or if they are simply interested in making a spectacle, but either way, barging into a church sanctuary and advancing anti-Christian stereotypes is simply beyond the pale.