Boycott, Divestment, Sanctions (BDS)
Texas Becomes 18th State to Pass Anti-BDS Bill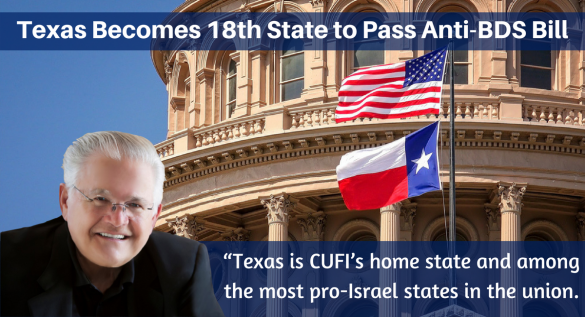 In a groundbreaking legislative act to blunt economic warfare against Israel, the Texas House of Representatives unanimously passed on Thursday an anti-boycott bill that bars the state from engaging in business with companies that are involved in the BDS (Boycott, Divestment, Sanctions) movement targeting the Jewish state.
The bill was passed 131-0 and the author of the legislation was Representative Phil King. Pro-Israel organizations welcomed the vote.
Joel Schwitzer, the Regional Director of the American Jewish Committee in Dallas, told The Jerusalem Post, "AJC together with other community leaders worked diligently to ensure that every legislator received multiple contacts about the importance of passing this bill.  We're excited that this brings this legislation one step closer to being law of the land in Texas, strengthening its relationship with Israel, Texas' 4th largest trading partner.  We appreciate the leadership of Representative Phil King in authoring the bill.  It is gratifying to see our elected officials sending such a clear and principled message that Texas will not do business with those who boycott our friend Israel."
Sen. Brandon Creighton, the author of the Senate anti-BDS bill, said Texas should not do business with companies that participate in the BDS movement.
Christians United for Israel  (CUFI) said in a statement that ," CUFI has been working closely with lawmakers in support of the legislation since its conception. These efforts included bringing Texans from across the state to Austin to lobby lawmakers in support of the bill, testifying before both the Senate and House committees to which the legislation was assigned, and distributing an action alert earlier this week letting Texas State Representatives know that CUFI's membership is behind the bill."
Read More: J Post