Hamas
Terror shooting victims identified as Kim Levengrond Yehezkel and Ziv Hajbi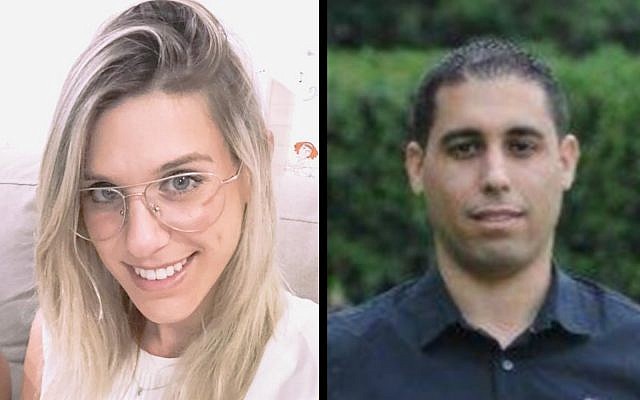 Authorities on Sunday afternoon identified a man and a woman shot dead in a terror attack in the West Bank earlier in the day as Kim Levengrond Yehezkel, 29, a married mother of a baby, and Ziv Hajbi, a 35-year-old father of three.
Yehezkel was from the central Israeli town of Rosh Ha'ayin, while Hajbi hailed from Rishon Lezion. They were shot dead by a Palestinian gunman at the Barkan Industrial Park near the settlement-city of Ariel.
A second woman was taken to a nearby hospital for treatment for a gunshot wound in her stomach and was in moderate condition.
Get The Times of Israel's Daily Edition by email and never miss our top stories Free Sign Up
The suspect, a 23-year-old Palestinian man from the northern West Bank, entered a factory where he was employed in the Barkan Industrial Park shortly before 8 a.m, armed with a locally produced Carlo-style submachine gun, according to army spokesperson Lt. Col. Jonathan Conricus.
Inside, he tied up and shot dead Yehezkel and Hajbi at close range, as well as wounding the third victim, according to eyewitnesses.
After the attack the suspect fled the scene, still armed with the submachine gun, the military said.
A worker at the factory who was nearby told reporters that the terrorist also tried to shoot at him as he fled the scene. The worker, who carried a gun, fired back a shot at the gunman, but apparently missed. He said he recognized the suspect as an electrician who worked at the company.