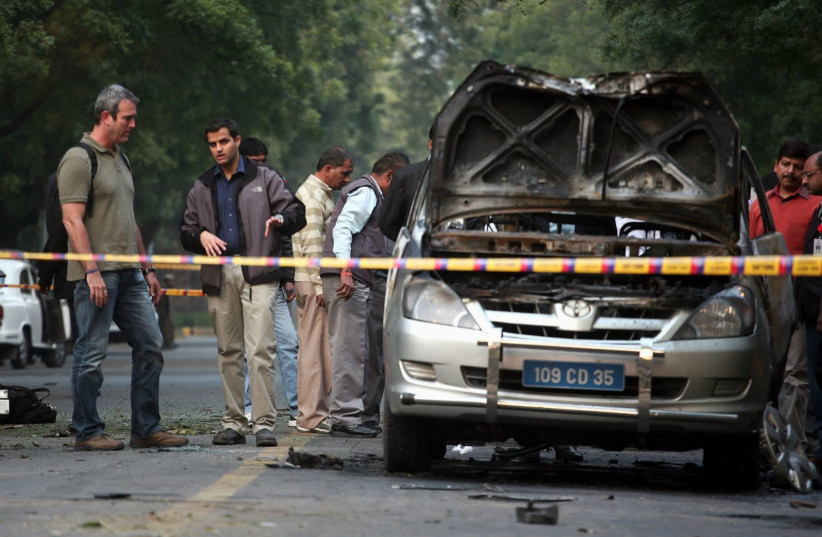 Terrorism
Terror Group Claims Responsibility For Attack On Israeli Embassy In India
01/30/2021
A terrorist organization called Jaish-ul-Hind, believed to be affiliated with Iran, has taken responsibility for the attack on Israel's embassy in New Delhi, according to Indian media.
An explosion occurred near the Israeli embassy in New Delhi, Israel's Foreign Ministry confirmed Friday. 
Indian police said that the explosion was caused by an Improvised Explosive Device (IED). The impact from the blast is said to have been felt within a 20-25 meter radius, Indian media reported. 
On Saturday, Indian security forces investigating the explosion issued a request from the country's Bureau of Immigration for any information on Iranian citizens that had recently entered India, local media reported. 
The blast occurred shortly after 5 p.m. (11:30 GMT), while Indian President Ram Nath Kovind and Prime Minister Narendra Modi were participating in a military ceremony a kilometer away.
The site of the blast was quickly cordoned off by police.
A one and half page long letter was found on scene which promised Israel that this is just the "trailer", India Today reported.
The letter went on to mention the late Iranian IRGC Quds Force commander Qasem Soleimani and the late Iranian nuclear scientist Mohsen Fakhrizadeh, calling the two men "martyrs." 
Read More: Jerusalem Post