Jerusalem
Terror at Halamish: When a family's Shabbat celebration turned into a bloody massacre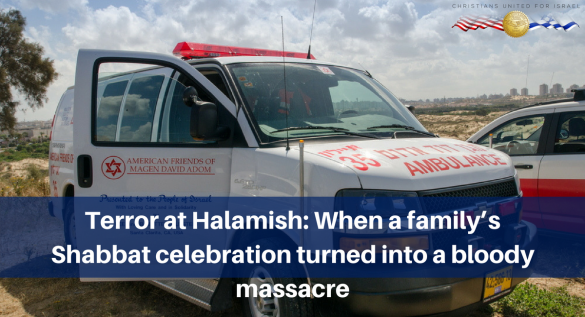 The family had gathered for a Friday night Shabbat dinner to celebrate the birth that morning of a grandchild.
The Shabbat table was covered with a bright white tablecloth, laden with snacks, bottles of cola and an unopened bottle of whiskey.
They were waiting for other guests to arrive, the door of their home at the settlement of Halamish apparently open.
Instead, a 19-year old Palestinian, Omar al-Abed, from a nearby village, burst in armed with a large knife and began stabbing the members of the family. There were apparently 10 people in the house when he entered.
He killed the grandfather of the family, 70, and two of his adult children, a son and daughter in their 30s and 40s. Their names have not yet been released until all relatives can be notified.
His wife was seriously wounded and taken to the Shaare Zedek Medical Center in Jerusalem where she underwent surgery on Saturday morning. When she came out, she was given the bitter news — her husband and two of their children were dead.
The couple are survived by three other children; it was the youngest who had given birth to the new grandchild that morning.
As Abed continued to stab the victims, the slain son's wife managed to rush several small children to a nearby room and lock the door. She called the police and screamed for help.
The scene of a deadly terrorist attack in the West Bank settlement of Halamish on July 21, 2017. (IDF Spokesperson)
A neighbor, who serves in an elite IDF unit, heard the cries and rushed over, shooting the terrorist through the window of the house.
Identified only as Sgt. A., from the IDF's elite canine special forces unit, the soldier said he heard the screams of the victims, ran to the window of the house and shot and wounded the killer.
Read More: Times of Israel