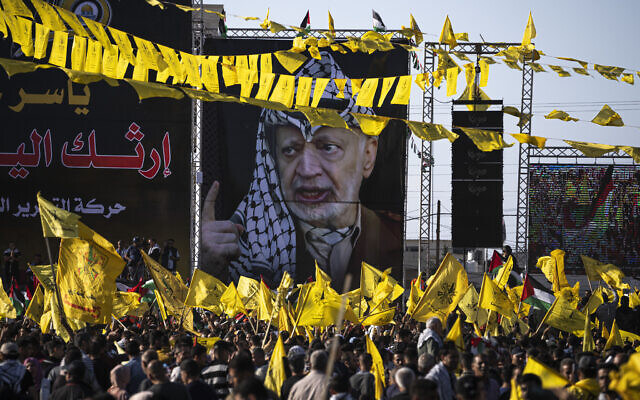 In The News
Palestinian Authority
Tens of thousands attend rare Fatah rally in Hamas-controlled Gaza Strip
GAZA CITY, Gaza Strip — Turning a huge park in Gaza City into a sea of yellow flags, tens of thousands of Palestinians on Thursday commemorated the anniversary of the death of Palestinian leader Yasser Arafat — a rare public show of support for the Fatah faction in the heartland of its Islamist rival Hamas.
The rally passed without incident, though Gaza's Hamas rulers have in the past blocked and violently dispersed demonstrations in solidarity with Palestinian Authority President Mahmoud Abbas' Fatah party. The Palestinian parties have been bitterly divided between the West Bank and the blockaded Gaza Strip for 15 years.
Crowds marched to Gaza City's Katiba park, waving the yellow flags of Fatah, which Arafat founded in the 1960s. They also raised photos of Abbas, Arafat's successor.
Arafat died in 2004 at a hospital in France after two years of an Israeli siege on his West Bank headquarters. Palestinians accuse Israel of poisoning him but have offered no proof, adding to the mystery surrounding the death.
Read More: Times of Israel