Incitement
Taylor Force Act Represents '180-Degree' Turn in US Stance on Palestinian Authority Terror Payments, Says Leading Advocate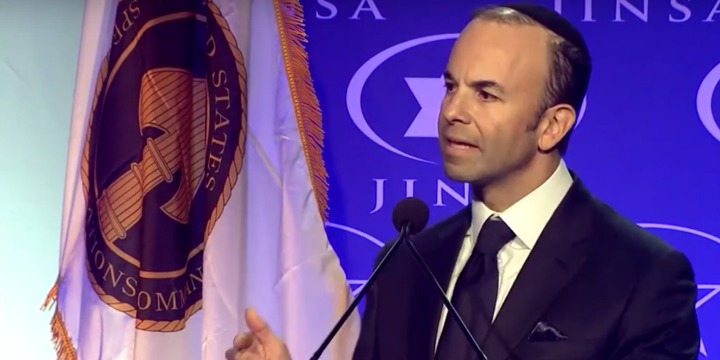 The leading private advocate of pending US legislation that sanctions the Palestinian Authority for financially incentivizing terrorism pronounced himself "very satisfied" on Wednesday, as the Senate prepared for an imminent final vote on the provisions of the Taylor Force Act.
"It's a great relief that Congress has gotten behind the Taylor Force Act in a bipartisan way," Sander Gerber – a prominent New York-based finance executive who has been praised by several US legislators for his vocal support of the legislation – told The Algemeiner.
Named in memory of the former American army officer stabbed to death by a Palestinian terrorist in Tel Aviv in March 2016, the Taylor Force Act passed the House of Representatives by unanimous consent in December 2017. Gerber — who joined forces with the Force family after their son's murder to counter the PA's long-established policy of paying salaries and other benefits to convicted terrorists and their families — said he was "very satisfied" with the final version of the act, which will be incorporated into an omnibus appropriations bill currently scheduled for a March 23 vote in the Senate.
Gerber argued that while the legislation will not cut every single cent of US aid to the Palestinians, it carried a political and moral significance far beyond any of its strictly financial measures.
"The biggest impact lies in the requirements on the State Department and the US representative at the UN to make known and report upon the Palestinian 'pay-for-slay' infrastructure," Gerber said.
In 2017, the PA spent $355 million on payments to the families of terrorists who were either convicted by an Israeli court or died in the process of executing their attacks. Meanwhile, the US is the Palestinians' largest international donor, having provided over $700 million in aid to the PA and the Palestinian refugee agency UNRWA in 2016.
Of the $200 million of US aid that "directly benefits" the PA, approximately $125 million will be cut once the legislation is passed, according to Gerber. On that front, Gerber awarded the final version of the legislation a "B minus."
"From a US taxpayer perspective, I don't think any money should be going to a terror-supporting entity," Gerber said.
However, he continued, "from a policy perspective, whether or not the US cuts aid to the PA by 200 or 300 or 400 million dollars, it's not going to change the PA's practice of paying terrorists. This is something that is embedded within their societal structure."
Read More: Algeminer