Talking Points
Talking Points – Operation Northern Shield
What Happened?
Early on Tuesday 4th December 2018, the Israel Defense Forces launched Operation Northern Shield on Israel's border with Lebanon.
Why?
The Lebanese government has failed to prevent Hezbollah from establishing a military presence in southern Lebanon, despite this being a clear violation of United Nations Security Council Resolution 1701, which brought to an end the 2006 Second Lebanon War and called for all armed groups with the exception of the Lebanese military to remain north of the country's Litani River. Despite the Security Council directive, Hezbollah has maintained and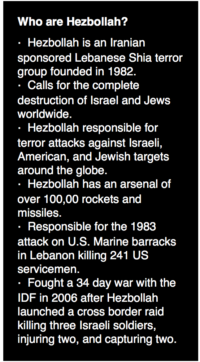 reinforced a presence South of the Litani River on Israel's border.
Operation Northern Shield was launched to neutralize a number of cross-border attack tunnels that were dug by the Iran-backed terrorist-army, Hezbollah, into northern Israel from Lebanon. The IDF has stressed the tunnels were not yet operational.
The IDF believes these tunnels were built to launch attacks on Israeli territory, unlike the tunnels and underground bunkers used by Hezbollah during the 2006 Second Lebanon War, which were primarily used to protect terrorists and their weapons from Israeli air attacks.
Prime Minister Benjamin Netanyahu said Tuesday evening that Israeli efforts to destroy the cross-border tunnels were "not an isolated operation, but a wide and ongoing operation" aimed at neutralizing a broader plan by the Iran-backed terror group to capture parts of the Galilee from Israel.
Israel's military expects its operation to be expanded to other locations along the Israeli-Lebanese border in the coming days, with a spokesperson stating the effort could last weeks.
Operation
The tunnel was found south of the Israeli town of Metulla along the Lebanese border. The army said it was some 200 meters (650 feet) long, extending some 40 meters (120 feet) into Israeli territory.
Background
There have been rumors of tunnels being dug from southern Lebanon into Israeli territory by the Iran-backed Hezbollah for a number of years, especially after the discovery of terror tunnels originating in Gaza being built in to Israeli territory. With the discovery of these new tunnels on Israel's northern border, the Jewish state has confirmed that a major escalation was planned.
Early on Tuesday it was announced that the "first of [what is] sure to be many" cross-border attack tunnels dug by Hezbollah was discovered by the IDF.
During the Syrian civil war, Hezbollah fought alongside the forces of Syrian dictator Bashar al-Assad. With that conflict winding down, Hezbollah, now battle hardened from the years of fighting in Syria, is no doubt switching back its focus to its primary goal, the destruction of Israel and the murder of its citizens.
The IDF believes that Gaza-based terror group Hamas provided Hezbollah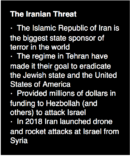 with technical assistance, based on its extensive experience digging attack tunnels from the Strip into southern Israel, while long time patron of Hezbollah, Iran, provided funding and support.
In his Tuesday evening briefing Prime Minister Netanyahu said, "The aim of Hezbollah has been to dig tunnels into our territory. It is part of an effort with a breadth and depth that we have not seen before."
US National Security Adviser John Bolton on Tuesday expressed "strong support" for Israel's operation against Hezbollah attack tunnels crossing the Lebanese border, saying Washington backed Jerusalem's "efforts to defend its sovereignty."
What Next
As the IDF continues its operation against the tunnels, Israel has made clear that this may be just the tip of the iceberg and Israeli officials have stated that they will continue the operation as long as required to neutralize the tunnel threat. The question now is if we will see an escalation from Hezbollah. With the terror group securing its strongest supply lines with Iran's entrenchment in Syria and over 100,000 rockets in its arsenal, the danger of conflict is very real.