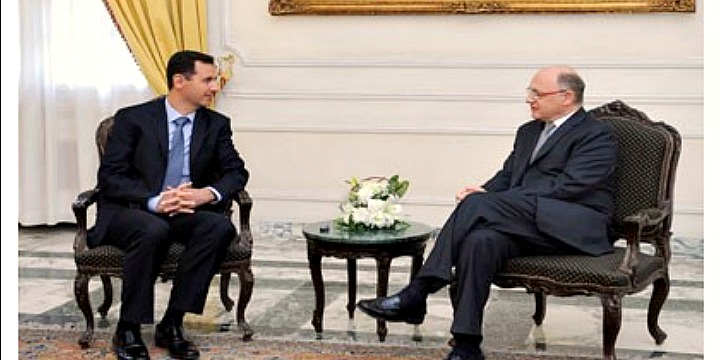 Syria
Syrian Dictator Assad Secretly Hosted Argentine and Iranian Foreign Ministers in AMIA Bombing Coverup, Ex-Ambassador Testifies
Syrian President Bashar al-Assad with then-Argentine Foreign Minister Hector Timerman in Damascus in 2011. Timerman finalized the AMIA cover-up with his Iranian counterpart during the same trip. Photo: File.
News outlets in Argentina were abuzz on Wednesday with speculation that the country's former president, Cristina Fernandez de Kirchner, and her foreign minister, Hector Timerman, may now face charges of treason for secretly negotiating a pact with Iran that exonerated the Tehran regime for the 1994 bombing of the AMIA Jewish center in Buenos Aires.
A sensational courtroom appearance by a former Argentine ambassador to Syria on Wednesday morning confirmed that Timerman had visited Syria in January 2011 to finalize the pact, at a meeting hosted by the Syrian dictator, Bashar al-Assad, that included Iran's then-foreign minister, Ali Akhbar Salehi — who now heads the Islamic Republic's Atomic Energy Organization.
For more than six years, Timerman, supported by Kirchner, has brazenly denied the reports that such an encounter involving the AMIA bombing was held.
Timerman's journey to Damascus was first exposed by the Argentine journalist Pepe Eliaschev in March 2011 — at the time, Timerman effectively accused him of producing fake news, denouncing him as a "pseudo-journalist." Nevertheless, details of Timerman's meeting in Syria were included in the complaint against the Kirchner government compiled by Alberto Nisman — the Argentine special prosecutor who was closing in on Iran and Hezbollah's culpability for the AMIA atrocity, in which 85 people were murdered and hundreds more wounded.