Anti Semitism
Synagogue attacker hoped to inspire further anti-Semitic attacks, German authorities say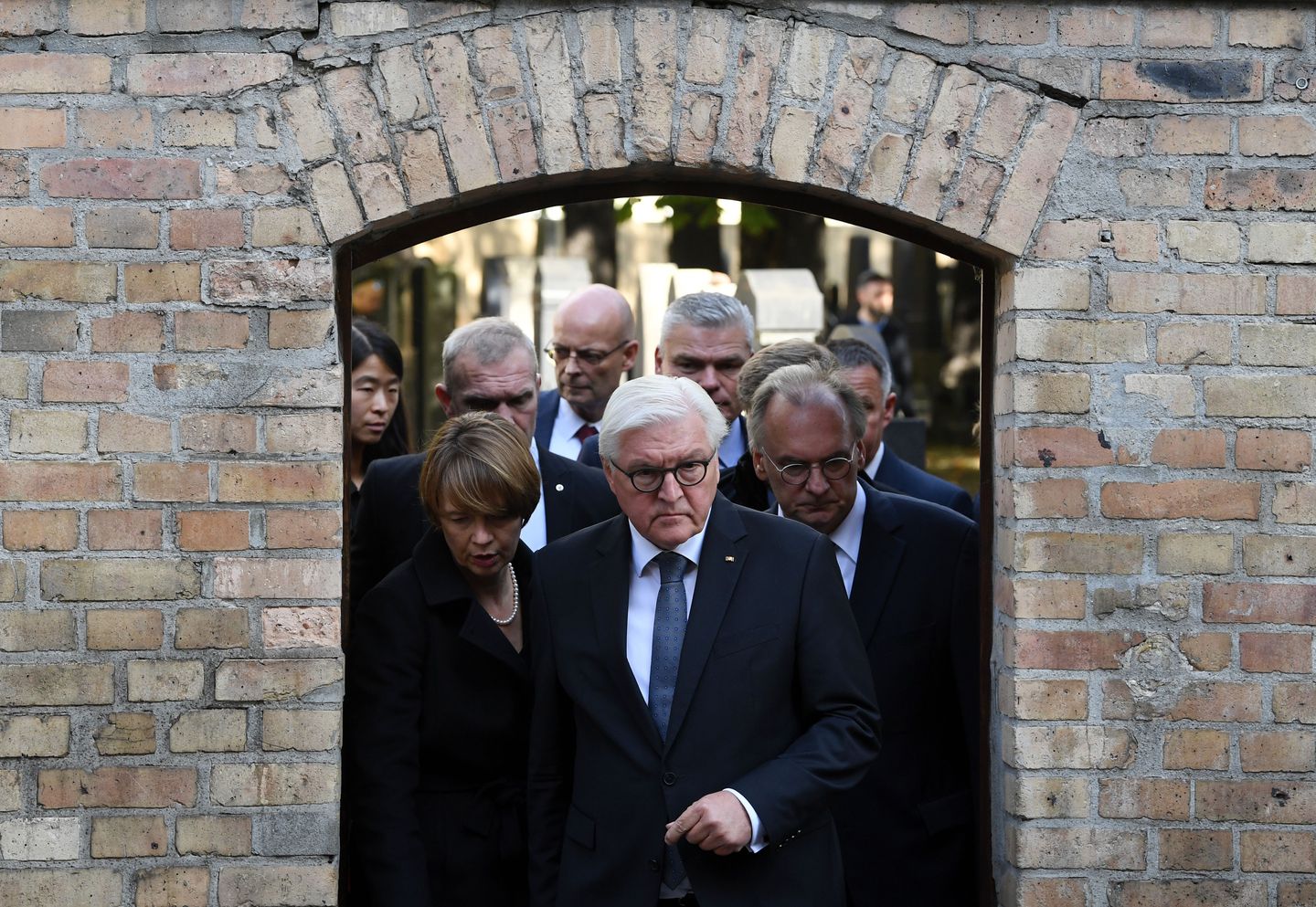 HALLE, Germany — The suspect in a live-streamed attack on a synagogue in eastern Germany that killed two people is a right-wing extremist with a clear anti-Semitic motive, authorities said Thursday.
Government officials, including German Chancellor Angela Merkel, said the death toll in what authorities have characterized as a terrorist attack would have been higher had the assailant's apparently improvised weapons and explosives not malfunctioned.
A locked door in the synagogue had prevented a "massacre of an extent that is hard to imagine," said Josef Schuster, president of the Central Council of Jews in Germany. Up to 80 worshipers were inside the synagogue in the city of Halle when the attack began Wednesday, on Yom Kippur, the holiest day in Judaism.
The assault prompted questions about the safety of the Jewish community in Germany, and officials said the republic had failed its Jewish citizens. President Frank-Walter Steinmeier called Wednesday a "day of shame and disgrace."
Since the end of World War II, German leaders have tried to ensure that the stain of the Holocaust — in which Nazi Germany and its collaborators killed roughly 6 million Jews — never fades from public memory and the national conscience. Hate speech is punishable by law in virtually every state in the European Union. Still, Jewish leaders in Germany had long been afraid of a major attack, with anti-Semitic violence on the rise across Europe and hate groups gaining traction on and off the Internet.
On Thursday, a number of mainstream German politicians pointed the finger at the far-right Alternative for Germany (AfD) party, blaming its officials' radical rhetoric, even though the party condemned the attack. Katrin Göring-Eckardt, a senior official in the Green Party, said members of the AfD were still responsible for helping push radical ideology "toward actions."
"We're at a point where we finally have to come around and face the facts: Right-wing extremists, racists and anti-Semites will not only try to spread hatred, but also use violence," Göring-Eckardt said The synagogue attacker fit an increasingly common pattern among such perpetrators. Like the far-right attacker who stormed two New Zealand mosques earlier this year and killed 51 people, the attacker in Germany live-streamed the shooting and appeared to have posted a document online to explain his motive.
Peter Neumann, a founding director at the International Center for the Study of Radicalization, said the modus operandi matched a phenomenon that researchers have described as the "gamification" of terrorism.
In online forums, Neumann said, there was "almost a competitive aspect" to recent attacks, with charts listing death tolls as if they were scores. The attacker's video was uploaded on Twitch, a gaming platform. (Twitch is owned by Amazon, whose chief executive, Jeff Bezos, owns The Washington Post.)
German Public Prosecutor General Peter Frank similarly indicated that the attack had to be investigated as part of a global pattern.
The attacker "wanted to imitate others, but he also wanted to instigate others to imitate him," Frank said. "He wanted to have a global impact."
The suspect, identified as Stephan B., is facing two murder charges as well as charges of attempted murder, among other crimes. He was not known to authorities and is thought to have acted alone, even though investigators are continuing to explore whether there were accomplices.
Outside the targeted synagogue in Halle, about 100 people assembled Thursday morning to mourn the victims as police officers stood by. But some of the mourners said the police presence came too late.
"Had there been police here yesterday, this would have ended differently," said Max Privorozki, chairman of the Jewish community in Halle. He added that officials had rejected his requests for more police protection before the attack.
More widely known synagogues and Jewish institutions in Germany are usually protected by police at all times. In other parts of the country, synagogues are protected by officers whenever the Jewish community assembles. Similar practices were not in place in Halle, officials said, but will be introduced.
Officials were under mounting pressure to enact changes after the live stream of the attack — captured on a helmet-mounted camera — emerged Wednesday evening. It showed the assailant arriving at the synagogue in a car and encountering no police presence. But his plan soon appeared to go awry, as he could not shoot his way through the locked front door of the synagogue.
Inside the building, where 70 to 80 worshipers were present, a synagogue official almost immediately noticed the threat on a surveillance screen, said a witness, Christina Feist, 29.
"He and others started barricading the front door," she told The Washington Post.
Offering her condolences Thursday to the relatives of the victims, Merkel vowed to combat anti-Semitism by investing more in education and prevention ­efforts.
Deborah Lipstadt, a prominent Holocaust historian, said that Holocaust education remains an essential priority but that education alone will not prevent attacks of the kind that occurred in Halle.
"Anti-Semitism is legitimately called the longest or the oldest hatred, and I would amend that to call it the longest ongoing hatred," Lipstadt said.
By the time police arrived seven minutes later, the gunman had fatally shot a woman in the street and a man at a nearby kebab shop and injured two people. Despite a shootout with the police, the gunman was initially able to escape. Authorities later took the suspect into custody.
"It's so deeply in the weeds, in the roots of our society, that to think that educating about a horror will stop anti-Semitism is being fanciful."
German authorities appeared to agree on Thursday, announcing a review of security measures such as police protection in front of synagogues and physical barriers to block would-be attackers. Justice Minister Christine Lambrecht also vowed to put more pressure on digital companies to flag threats to authorities.
Jewish groups had repeatedly called for such steps in the past.
Standing outside the synagogue on Thursday morning, Igor Matviyets, 28, a resident of Halle and a member of the local Jewish community, said he and others had long felt unsafe.
"Even before the events of yesterday, I wouldn't have left my home with the kippa," Matviyets said, referring to the traditional Jewish skullcap.
His worst fears have now been confirmed, he said.
Read more: The New York Times