US-Israel Relationship
Steelers hold moment of silence for Pittsburgh synagogue shooting victims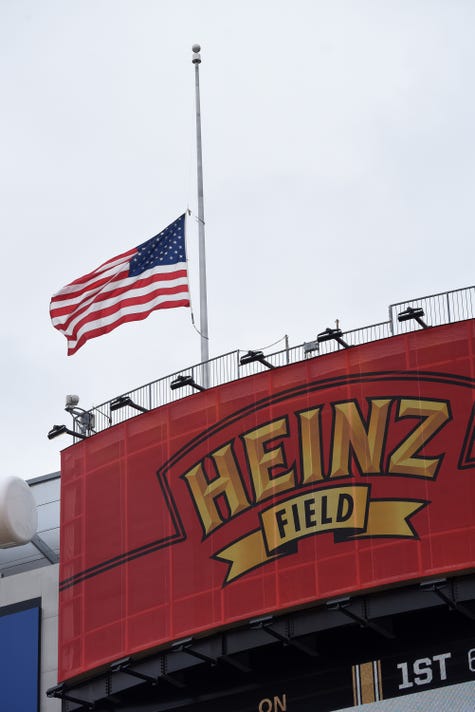 PITTSBURGH – Steelers fans packed into the lots surrounding Heinz Field, tailgated – tossing footballs back and forth, consuming savory foods and cold beers – and then filed into the stadium, clad in black and gold, just like they would any other day.
They waved their terrible towels as players took the field during pregame introductions. A few pink breast cancer awareness towels littered the fray. A handful of fans held signs.
"Just married," read one. "This sign has as many Super Bowls as the Browns," read another. "It's my birthday," read a third.
But not until the stadium announcer called for a moment of silence before the national anthem to honor the victims of the shooting at a synagogue in nearby Squirrel Hill did anything suggest the day was different for the Steelers and their fans. On Saturday, a gunman killed 11 people and injured six more in the attack.
Players and fans bowed their heads and stood in silence for seven seconds before the game against the Browns.
Many people throughout the Pittsburgh area — including family members, friends and members of the synagogue — have replaced their Facebook profile photos with a Stronger Than Hate graphic, a play on the Steelers' logo. In the reworked version, the top-most of three four-pointed stars is replaced by the six-pointed Star of David.
Sunday morning, Steelers team president Art Rooney II issued a statement Sunday morning which read, "On behalf of the entire Steelers organization, we offer our support and condolences to the families of the attack on peaceful citizens worshiping at The Tree of Life Synagogue. Our hearts are heavy, but we must stand against anti-semitism and hate crimes of any nature and come together to preserve our values and our community. With that in mind we will ask everyone to join in a moment of silence and prayer prior to our game this afternoon."
Asked if the tragedy would put a damper on the day, McKeesport, Pa., resident Jim Kumf told USA TODAY Sports before entering the stadium, "I hope not. We'll be fine. This is happening all the time. You hate to say you're getting used to it, but it really is happening everywhere unfortunately."
Steelers wide receiver Ryan Switzer, who wore a shirt that said "love thy neighbor" that included several denominations, said after his team's 33-18 win Sunday he had been waiting for a time to wear the shirt to express the message.
"I felt like today, with the media we get and the platform we have, there was no more important time than today to express what I believe, to shine a light on the hate and the random acts of violence that are going on in our world today," Switzer said.
Read more: USA Today