Holocaust
State Hanukka candle-lighting ceremony dedicated to Holocaust survivors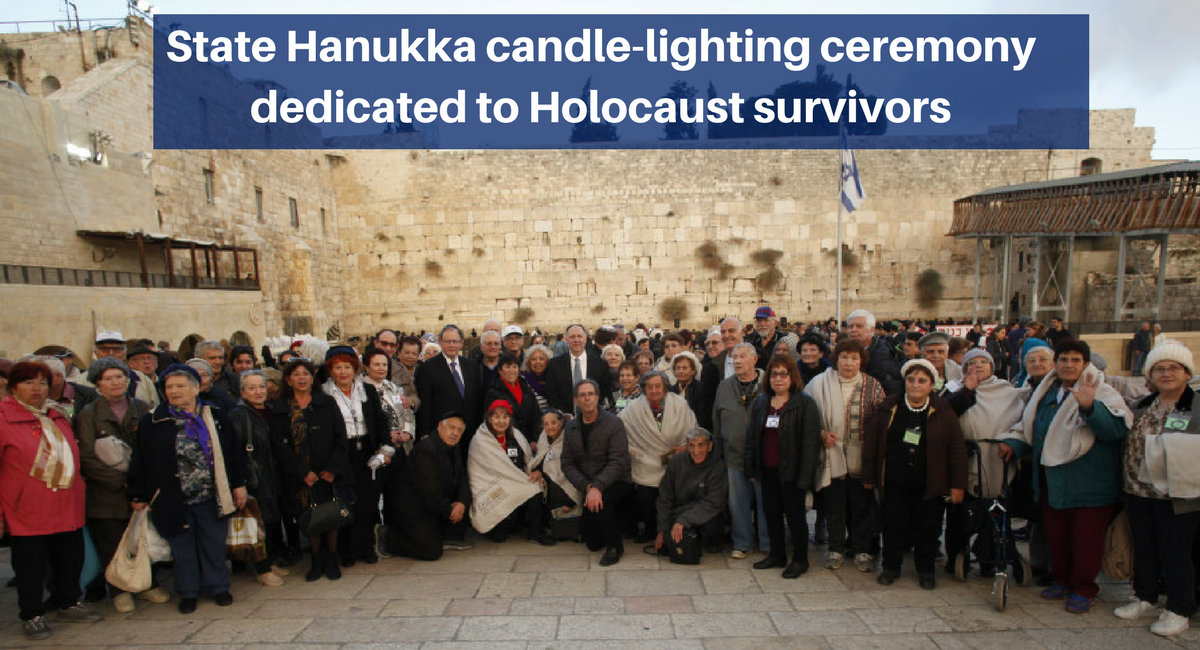 Holocaust survivors in Jerusalem, New York City and Berlin attended Hanukka candle-lighting ceremonies held in their honor on Thursday.
In Jerusalem, the official state candle-lighting ceremony was, for the first time, dedicated to survivors and their reemergence from darkness into light, at the initiative of the Conference on Jewish Material Claims Against Germany (Claims Conference) in cooperation with the Western Wall Heritage Foundation.
Hundreds of survivors attended the event at the Western Wall along with their families and members of youth organizations.
Participating in the ceremony were Social Equality Minister Gila Gamliel, Migdal Ha'emek Chief Rabbi Yitzchak David Grossman, Rabbi of the Western Wall and the Holy Sites Shmuel Rabinowitz, and the Claims Conference's executive vice president Greg Schneider and vice president for Israel Shlomo Gur.
Similar candle-lighting events were set to be held in Berlin, hosted by the President of the Bundestag Dr. Wolfgang Schäuble, and in New York City.
In the capital, the survivors participated in guided tours of the Wall's sites and tunnels, where they were greeted by Gamliel and Schneider and enjoyed sufganiyot, traditional donuts.
"I am honored to be here, today, with you… my brother's, the heroes of my nation, survivors of the Holocaust, who endured hell, and made aliya to our country, allowed desolation to flower, built Jerusalem and established the State of Israel," Schneider said in an address.
"Every Holocaust survivor among us is like a candle," he said. "Survivors should be a memory for us and our children, to remember the dark time before the establishment of the State of Israel. Just as we are commanded to present Hanukka candles at the window of the house, we must commemorate the stories of heroism, the meaningful life, the resurrection, and the contribution of those who have had everything taken from them."
Romanian-born Holocaust survivor Pnina Katzir, 88, told the gathering about her life in a ghetto in Transnistria during the Holocaust, fighting starvation, cold, lice, typhus, fear and despair.
"'Just survive,' we heard our parents repeatedly telling us, 'and fight for life,' every day, hour-by-hour and minute-by-minute. We did it and survived and we even revived. We immigrated to Israel and built a home and raised families, and that is our pride and victory," she said.
Read More: J Post