Israeli Society
Somber Memorial Day events begin with siren and ceremony at Western Wall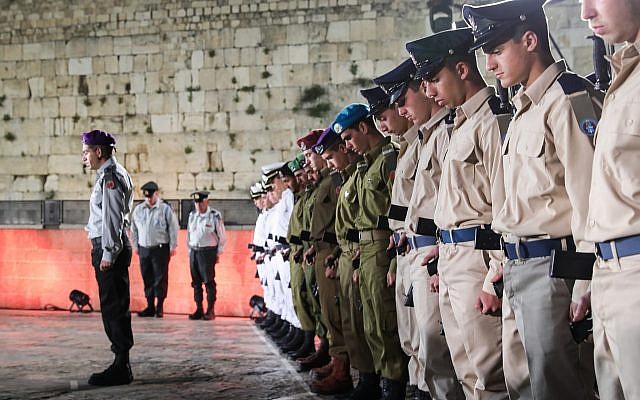 Israelis paid tribute Tuesday evening to the country's fallen soldiers and terror victims, bowing their heads at 8 p.m. for a minute of silence as sirens sounded nationwide, marking Memorial Day.
In all, 95 new names were added over the past year to the roster of 23,741 soldiers who died defending the country. They include 40 disabled veterans who passed away due to complications from injuries sustained during their service. Sixteen names were also added to the list of terror victims who perished in attacks, bringing the total to 3,150.
The main national ceremony, which takes place at the Western Wall in Jerusalem, was attended by President Reuven Rivlin, IDF Chief of Staff Aviv Kohavi, IDF Chief Rabbi Eyal Karim, Jerusalem Mayor Moshe Lion and others.
In his speech, Rivlin referred to that fact that this is the first Memorial Day since Israel secured the return of the remains of Zachary Baumel, a Brooklyn-born IDF soldier who had been missing since a 1982 battle in Lebanon in which he was presumably killed. Reports have pointed to intensive efforts to find and repatriate the bodies of other Israelis thought to be in Syria for decades.
"Dear families, citizens of Israel. A month ago, we brought Sergeant First Class Zachary Baumel to eternal rest, 37 years after he fell in the battle of Sultan Yacoub," Rivlin said in his speech.
Read More: Times of Israel