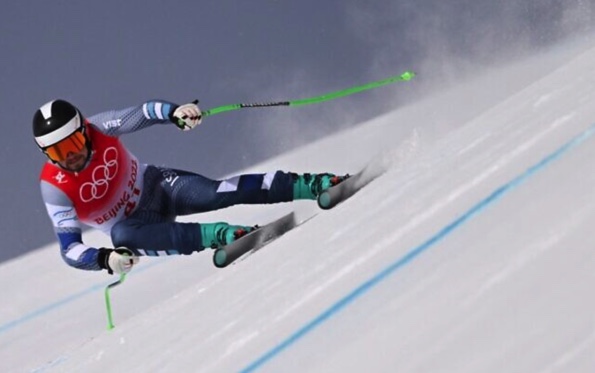 In The News
Skiing siblings hit the slopes for Israel in Olympic debut at Beijing
Noa and Barnabas Szollos, a pair of Hungarian-Israeli skiers representing Israel at the Beijing 2020 Winter Games, each made their Olympic debut on Monday as they hit the ski slopes.
Barnabas, 23, competed in the rescheduled men's downhill competition, finishing in 30th position out of the 43 athletes. The gold was won by Switzerland's Beat Feuz, while France's Johan Clarey took silver and Austria's Matthias Mayer bronze.
Szollos completed the event with a time of 1:46.88, compared to 1:42.69 for the gold-medal winner.
"Finally here after so many years of training and hard work," he posted on Instagram from the opening ceremony on Friday. "Now it's time to race and enjoy the Games."
Barnabas is slated to compete in the Super-G event on Tuesday, and three additional events throughout the games.
His younger sister, Noa, 19, also made her Olympic debut Monday in the women's Giant Slalom. In the first run, Noa finished in 42nd place out of 82 athletes, with a time of 1:04.90, 7.34 seconds off the lead. But in the second run, she did not finish, falling about halfway down the slope and finishing out of the rankings. She did not appear to be injured.
Read More: Times of Israel