Syria
Six Day Way – Syrian Front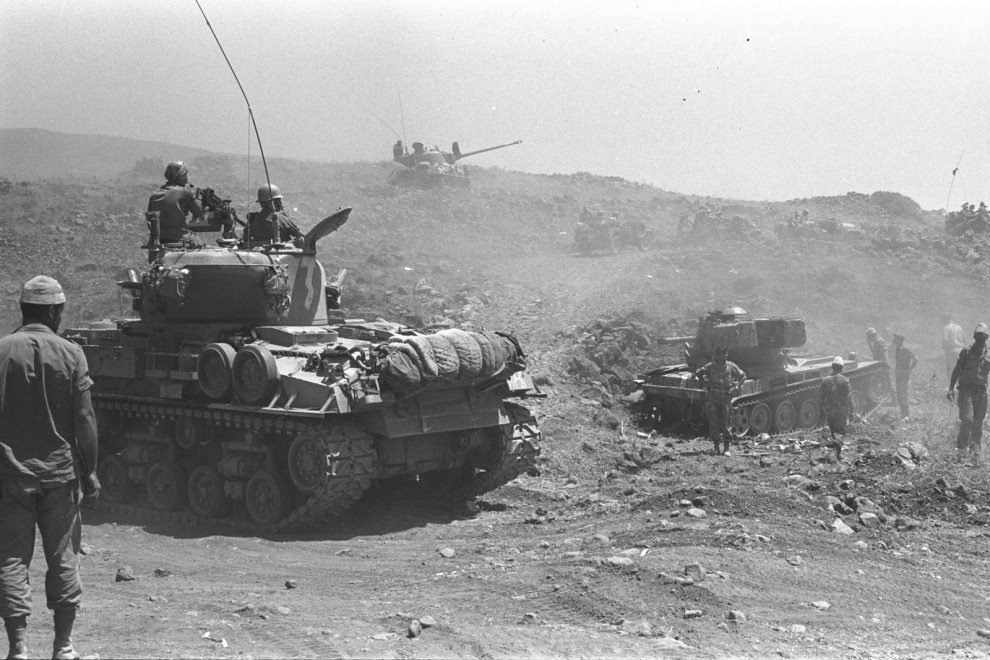 In the years and months leading up to the 1967 war, Syria had played a crucial role in raising tensions by engaging in acts of sabotage and incessantly shelling Israeli communities. The second half of 1966 and spring of 1967 saw increasing friction and incidents between the IDF and Syrian forces. In response to a false Soviet warning on May 13, 1967 that Israel was preparing for an imminent attack on Syria, Egypt and Syria activated a mutual defense pact, and Syria massed troops on its border with Israel.
That border ran some 40 miles, from Kibbutz Tel Dan in the north down to the Sea of Galilee, with the Syrians occupying the high ground. In the northern half the terrain was extremely steep, rising up at the border or just after the border, while in the south the rise was a little slower at first. The escarpment and the plateau behind it, at an elevation of about 2000 feet, are known as the Golan Heights, and the Syrians had been fortifying it for 18 years. Over most of that time Syria had also often shelled Israel's northern communities.
By 1967 more than 265 artillery pieces were aimed down at Israel, and on the plateau itself Syria had constructed a dense network of fortifications, trenches and concrete bunkers with overlapping fields of fire, all sitting behind dense mine fields. Just before the outbreak of the war the Syrians forces in the Golan totaled over 40,000 troops with 260 tanks and self-propelled guns, divided up among three armored brigades and five infantry brigades. Facing them, the Israelis were heavily outgunned, with just one armored brigade and one infantry brigade.
Although Syria maintained a radical and aggressive posture towards Israel, it counted heavily upon the initiative and success of the larger and better trained Egyptian army. During the first day of the war, on June 5, Syrian planes attacked communities in the north of Israel, including Tiberias, and attempted to attack the Haifa oil refineries. The Israeli air force responded later that day with an attack on Syria's airbases, destroying 59 Syrian aircraft, mostly on the ground.
In the early morning hours of June 6, however, Syria intensified its attacks, launching a heavy artillery barrage against Israeli civilian communities, and then sending two companies of infantry across the border to attack Kibbutz Tel Dan. The Kibbutz's defenders held off the attack, and twenty minutes later the Israeli airfare arrived and drove the Syrians back over the border. Despite other incursions into Israeli territory, which were also driven off, with the bulk of Israeli troops still fighting in the Sinai and the West Bank the Israeli army could not go on the attack against Syria.
On June 8, the fourth day of the war, Syria accepted a UN cease-fire, and for five hours there was a lull in the shelling. But then the barrages resumed, and state radio announced that Syria did not consider itself bound by any cease-fire. Apparently their formidable defenses in the Golan and the fact that Israel had not yet attacked led the Syrian regime to the false conclusion that their positions were impregnable. (Arab-Israeli Wars, A.J. Barker, p. 90)
Read More: Six Day War