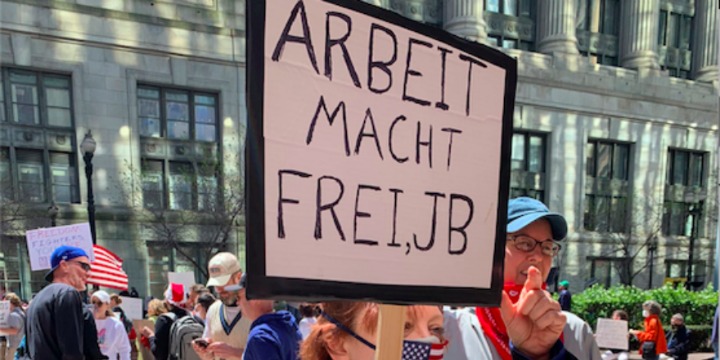 Antisemitism
Sign With Auschwitz Slogan Displayed at Chicago Protest Against Stay-at-Home Orders
A sign playing off the Auschwitz slogan "work sets you free" was featured at a protest in Chicago where hundreds of demonstrators railed against state and local restrictions imposed in response to the coronavirus pandemic.
The signs called for Illinois Gov. J.B. Pritzker to end his coronavirus stay-at-home order, which runs until May 30.
A protester held a handwritten sign reading, Arbeit macht frei, JB. The first three words are part of the sign leading into the former Auschwitz concentration and extermination camp in Poland, where at least 1.1 million people, most of whom were Jews, were killed.
A picture of the sign was taken by registered nurse Dennis Kosuth, who posted it on Twitter.
"There are clearly a few who wish to exploit the very real suffering that is happening because of [coronavirus], and turn it into racist diversions and organizations of hate," Kosuth told JNS. "People who are hurting must be given health care and actual relief, not dead-end solutions like reopen America. Government at every level must do more to provide those things.
Read More: Algemeiner