Holocaust
Shocking Einstein letters, revealing 'Hitler-insanity,' up for auction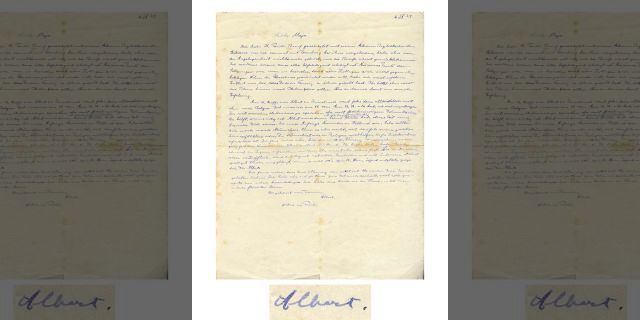 A series of letters from Albert Einstein will be auctioned later this week, with the messages touching on a number of topics, including his thoughts on Jewish people's rights to defend themselves, the rise of anti-Semitism at the time and "Hitler-insanity."
The three letters, all published prior to the start of World War II, give fresh insight into Einstein's thinking at a time when Adolf Hitler was growing in power in Eastern Europe and how it impacted his own life and the lives of those around him.
The first letter, published in September 1921 to his sister Maja Winteler-Einstein, discusses that Einstein was supposed to travel to Munich, Germany, but did not do so as a rise of severe anti-Semitism would have put his life in danger.
"…I am supposed to go to Munich, but I will not do that, because this would endanger my life right now," Einstein wrote in the letter to his sister, detailing some of the achievements his son, Hans Albert, was making. The letter has a minimum bid of $12,000, according to Nate D. Sanders, the auction house selling the letters.
A second letter, dated April 1934, gives further insight into Einstein's marriage to his first wife, Mileva and care for their son Eduard, as well as his thoughts on Hitler, whom the world-famous theoretical physicist said was completely responsible for ruining "the lives of all those around me."
Read More: Fox News