Hamas
Shin Bet: Al-Aqsa TV used on-air signals to help Hamas coordinate terror attacks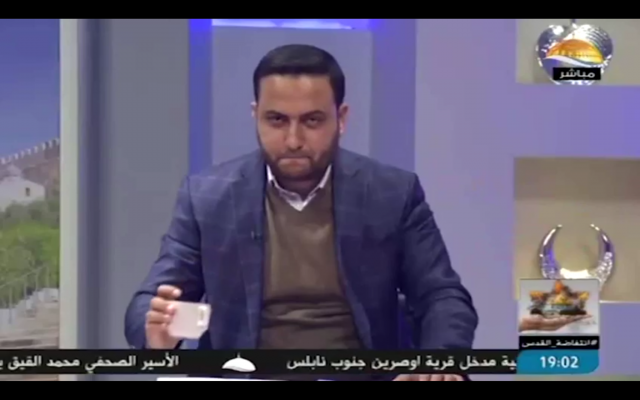 The Shin Bet security service on Wednesday accused the Palestinian Al-Aqsa broadcaster and Gaza-based journalists of acting as agents of the Hamas terror group's military wing in an effort to recruit young Palestinians with Israeli ID cards to carry out terror attacks inside Israel.
According to the security service, the Al-Aqsa television station was used to pass clandestine messages to Hamas operatives in the West Bank and East Jerusalem, using quotes from the Quran or subtle gestures by the presenters. The Shin Bet named two presenters who it said conveyed messages from Gaza via signals on air, and cited an instance in which a presenter did so by placing a cup of tea on a desk and reciting a line from a poem.
In all, five Palestinians in the West Bank and East Jerusalem were arrested since December in the operation, on suspicion of having been been recruited by Hamas to carry out terror attacks against Israeli targets.
The Shin Bet said the recruitment plot was a key factor in the decision made by the Israel Defense Forces to bomb Al-Aqsa TV's headquarters in Gaza in November.
Israel has also long accused Hamas and other terror groups of using the special status granted to journalists as a cover for nefarious activities.
For several years, the Gaza-based Hamas operatives involved in the plot have been working to recruit Palestinians in the West Bank and East Jerusalem to join their ranks and carry out attacks against Israeli civilians and soldiers, the Shin Bet said.
"Hamas's efforts to inspire these activities, despite its repeated failures, indicate a strategy that was chosen by the heads of Hamas to try to imperil the stability of the West Bank at any price," a senior official in the agency said in a statement.
The security officer warned that those efforts represented a "significant and immediate threat to the stability of the region."
Read More: Times of Israel