US-Israel Relationship
Senate Committee Approves Trump Pick for Israel Envoy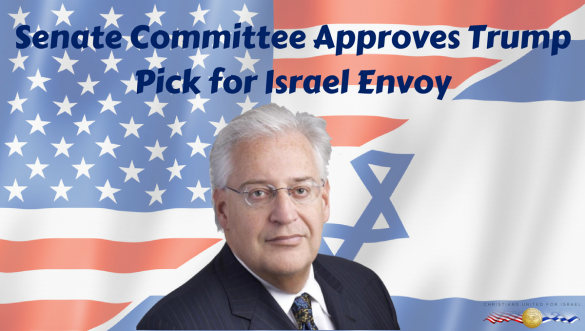 President Donald Trump's pick for Israel envoy passed the Senate committee stage with full Republican support Thursday, despite lingering doubts from some Democrats on the panel.
Ambassador-designate David Friedman faced a tough confirmation hearing before the Senate Foreign Relations Committee in February, during which he repeatedly expressed regret over inflammatory remarks he made in the past. He also indicated support for the two-state solution, moderating past criticism of it, and cautioned against expanding the construction of Israeli homes into new territories.
Democratic senator Bob Menendez supported the nomination Thursday, along with every Republican on the committee. Other Democrats cited Friedman's past remarks as the primary reason they would not vote for him.
"I don't believe that Mr. Friedman can be that unifying person as ambassador to Israel," Ranking member Ben Cardin said. "I say that because of his written comments. I believe that will come back and be used," he said, referring to statements that include incendiary descriptions of some left-leaning Jewish groups and political officials.
"I will acknowledge the comments he made during our confirmation hearing, his apologetic comments about the statements that he had published were encouraging," Cardin said.
Cardin said that Friedman's past criticism of the two-state solution also played into his decision.
Virginia senator Tim Kaine and New Mexico senator Tom Udall reiterated their opposition to the nomination Thursday on similar bases.
"The last thing we need in this position is somebody who has a penchant for over the top, hyperbolic, and even false statements, and Mr. Friedman, sadly has not demonstrated the ability, in my view, to be diplomatic," Kaine said. "I will also oppose the nomination. It's regrettable because he knows so much about the topic."
Florida senator Marco Rubio, who expressed frustration about criticism of the ambassador-designate in February, reaffirmed his support for Friedman after the vote.
Read more: Weekly Standard