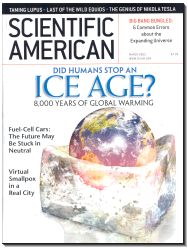 Scientific American retracts anti-Israel opinion piece after criticism
They're in hot H2O.
Scientific American found itself taking heat this month after the scholarly, 176-year-old magazine published an opinion piece titled "Health Care Workers Call for Support of Palestinians."
The screechy diatribe accused Israel of "vaccine apartheid" and "war crimes" among other alleged abuses. The piece blasted "Israeli settler colonial rule" and called on US healthcare and academic institutions to condemn "long-standing oppression" against the Palestinians and adopt the Boycott Divestment and Sanctions campaign against the country.
The piece was written by Harvard University research fellows Osaid H. K. Alserand Asmaa Rimawi; Seattle Children's Hospital Dr. Sabreen Akhter; Mayo Clinic Dr. Nusheen Ameenuddin, Harvard med students Anand Chukka and Qaali Hussein; Arizona trauma surgeon Ariän El-Taher; and Bryan Leyva, an "AfroLatinx Scholar-Activist from the "Dakota Territory."
The opinionated screed was swiftly retracted after the magazine received a letter from three Nobel Prize winners and 100 other scientists calling out the article.
"In publishing the cited article, Scientific American's editors jettisoned appropriate editorial standards and ignored easily verified facts that counter the authors' one-sided invective," the letter read.
Read More: New York Post