Israel Defense Force (IDF)
Satellite images show site in Aleppo allegedly struck by Israel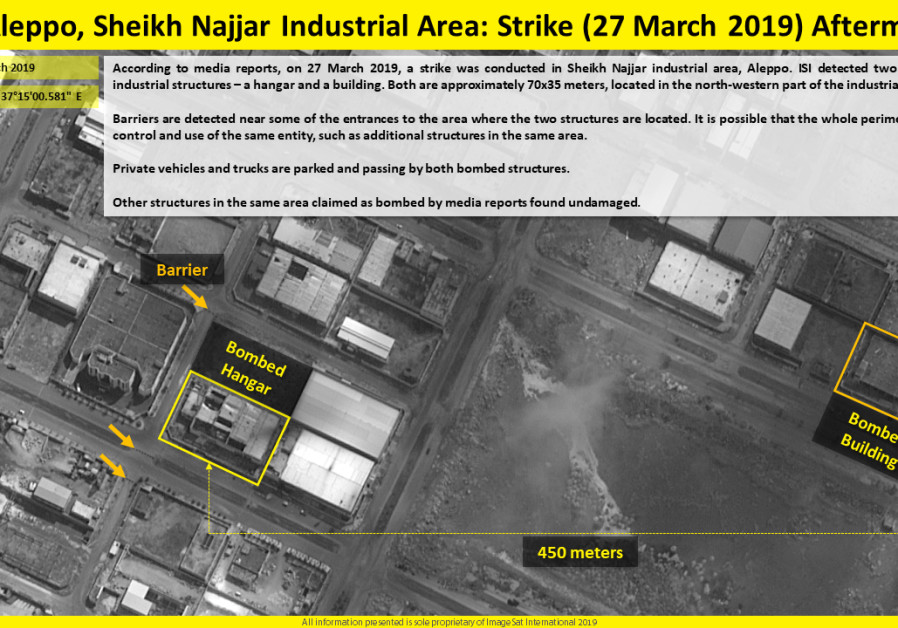 Satellite images released by the Israeli intelligence firm ImageSat Intl. (ISI) on Thursday show the destruction of an industrial zone in Aleppo in northern Syria allegedly struck by Israel in late March.
The images show destruction to two structures, a hanger and a building, in the north-western part of the Sheikh Najjar industrial area, both approximately 70×35 meters and some 450 meters apart.
"While there aren't significant signs of massive explosions, it seems that the bombs hit several spots of the hanger and caused a partial roof collapse," ISI said in its report.
The blasts also caused an electrical blackout in Aleppo, the country's second-largest city.
"Barriers are detected near some of the entrances to the area where the two structures are located. It is possible that the whole perimeter is under the control and use of the same entity," ISI said in their report, adding that private vehicles and trucks are seen in the images, both parked and passing by both bombed structures.
According to local reports, the March 28 attack also targeted Iranian ammunition dumps and the Nairab military airport used by Tehran on the outskirts of the city, the second such strike on the installation in less than a year.
Read More: The Jerusalem Post