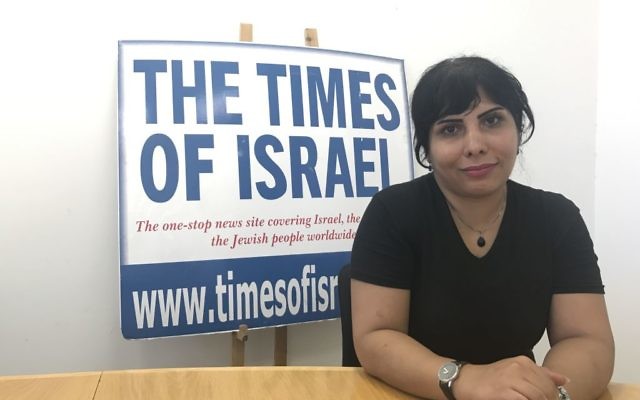 Israeli Society
Safe in Jerusalem, Iranian blogger thanks Israel for 'saving' her
Hours after she arrived at Ben Gurion Airport on Thursday, Neda Amin, an Iranian-born journalist and dissident who feared being deported to her native country, thanked the Israeli government for granting her refuge, adding that she has Jewish roots and would love to live in Israel.
During a press conference at The Times of Israel's Jerusalem offices, Amin — who blogged regularly and freelanced for The Times of Israel's Persian site — described her anguish as she feared Turkey, where she had lived as a refugee since 2014, would deport her back to Iran.
Having written critically about the regime, Amin feared she would have been arrested, tortured, and that her life would have been in danger had she been forced to return to the Islamic Republic.
"I am very happy. Israel is my country," she said in broken English, adding that she finally felt "safe now" because no one wants to attack or arrest her here.
Amin, 32, said she had no immediate plans but indicated that she would seek permanent residence status or citizenship.
"In the meantime, I was saved, I was rescued," she said in Persian, speaking through an interpreter. "If the Israeli authorities will give me permission, I would love to live here, with all my heart and soul. If not, I will respect their decision."
Amin said her late father's mother was Jewish and that she always felt sympathetic toward Israel and the Jewish religion.
"According to Jewish law, my father is considered Jewish, but according to Muslim law, my father is considered a Muslim. But my father didn't really believe in Islam, so he also learned about Judaism," she said.
"My roots are somewhat connected to Judaism. I loved Israel since my youth; I never accepted all the regime's anti-Israel slogans. I always dreamed that I will somehow get to Israel."
Read More: Times of Israel