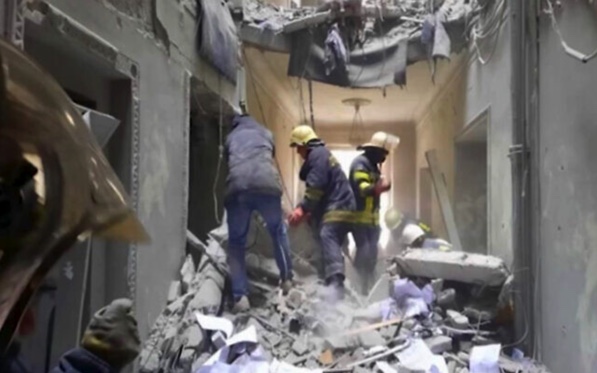 In The News
Russia strikes Kyiv TV tower, killing 5 and damaging Babi Yar Holocaust site
A Russian airstrike hit Kyiv's main television tower in the heart of the Ukrainian capital on Tuesday, knocking out some state broadcasting but leaving the structure intact.
After a blast sounded around the city and smoke was seen rising in the Babi Yar district, the interior ministry said equipment had been damaged and "channels won't work for a while."
At least five people died and five were injured in the missile strike, the Ukrainian emergencies service said.
Images from the scene showed charred bodies and cars damaged in the apparent Russian attack, which knocked out some broadcasts.
The attack on the television tower also struck close to a major Holocaust memorial in Kyiv, according to Ukrainian authorities and the board of the site. A spokesperson for the memorial said most of the damage to the Babi Yar site was to buildings in the Jewish cemetery located in the complex but a security team was still making assessments.
The Babi Yar memorial rests on a mass grave containing 34,000 Jews who were slaughtered there in 1941 when the city was under Nazi occupation. The massacre was carried out by SS troops along with local collaborators.
Read More: Times of Israel