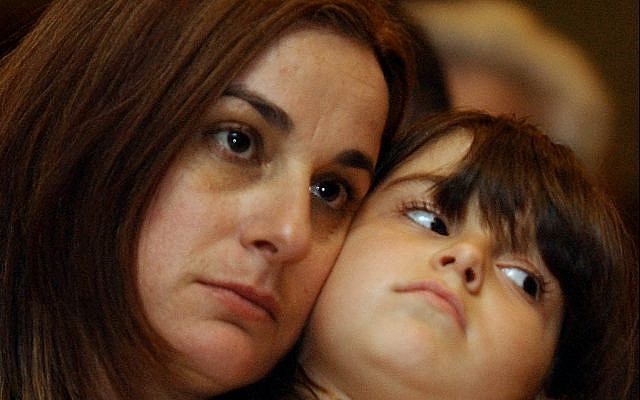 Israeli Society
Rona Ramon, widow of astronaut killed in Columbia shuttle disaster, dies at 54
Rona Ramon, the widow of Israeli astronaut Ilan Ramon, died Monday at the age of 54, after a battle with pancreatic cancer.
Ramon, a practitioner of holistic medicine, has been a public figure since her husband became Israel's first person in space, when he blasted off aboard the Columbia in 2003, and then perished when the shuttle broke up upon reentry, weeks later.
As the country's first astronaut, Ilan Ramon — who earlier had been an IDF pilot and participated in the 1981 bombing of Iraq's nuclear facility — was a national hero, and Israelis closely followed his accomplishments. Ramon's image while floating in space, a big smile on his face, was shown repeatedly on TV broadcasts.
Capt. Asaf Ramon, who was 21, was killed when his F-16 warplane crashed during a routine training flight. Inspired by his father, he had excelled in his training and was awarded his pilot's wings by then-president Shimon Peres. Asaf had expressed hope that he, too, would one day become an astronaut.
Rona Ramon largely stayed out of the public eye for years following her husband's death, trying to make sense of her loss. But on September 13, 2009, she was forced back into the spotlight by the death of the couple's oldest son.
The pair of tragedies inspired Rona Ramon to earn a masters degree in holistic health from Lesley University in Massachusetts. She established the Ramon Foundation, a nonprofit that promotes personal and social excellence through space, flight, science, and technology. She also gave speeches across Israel and offered grief counseling to others.
"The decision to go study emerged from the crisis I went through," she told The Associated Press in 2013. "Only by directly facing it could I cope."
Read More: Times of Israel