Israeli Society
Rivlin hosts bar and bat mitzvah children traumatized by terror attacks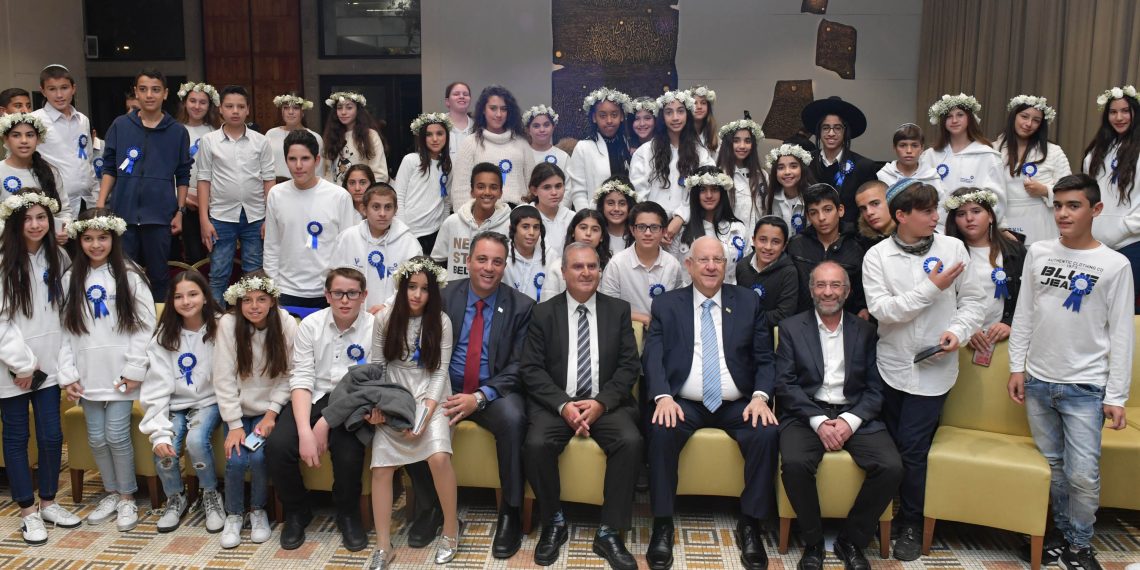 'The people of Israel are with you,' President Reuven Rivlin tells the children in a moving ceremony.
As a society, we try to prevent children from witnessing tragedy, which is why it is so heartbreaking to see children who have experienced the horrors of terrorism.
Recognizing this, President Reuven Rivlin on Thursday evening hosted his annual celebration for bar and bat mitzvah children who were injured in terror attacks.
This year's celebration, which took place at the President's residence, featured a performance by former Eurovision song contest winner Neta Barzilai and gave parents and children a platform to express the grief their family experienced due to terror.
For example, Ahiya Emanuel Fisher, brother of the late Adva Fisher who was killed in a suicide attack in 2003, spoke on behalf of the children.
"We are all kids who have grown up, but our growing up started long before we got to the age of bar mitzvah," he said. "From the pictures and stories I have gotten to know Adva, the light she brought to our home. I am sure she is proud of me from above."
Adva Fisher was murdered in 2003 when she was 19 years old in a terrorist attack at the Geha junction and never got to meet her brother Ahiya, who was born two years later.
In a pure act of kindness, Ahiya chose to donate all the gifts from his bar mitzvah to people with special needs, in her memory.
Speaking to the children present, Rivlin offered some words of consolation.
"Today, you mark the transition from childhood to adulthood, the age when young men and women form their own opinions, come of age in the eyes of religion and are expected to take responsibility for their actions," he said. "You have all, unfortunately, already experienced the loss of a father, mother, brother, sister or other relatives. Some of you have been injured yourselves. Already as children, too soon, you were asked to grow up, and you did. I want to say that you became heroes. When I see you here, strong, bright and smiling, when I see your spirit, I feel that you are the ones who give me strength."
"On this emotional day, the people of Israel are with you," he added. "Everyone is looking out for you and wishing you success and happiness."
Read more: Israel Hayom