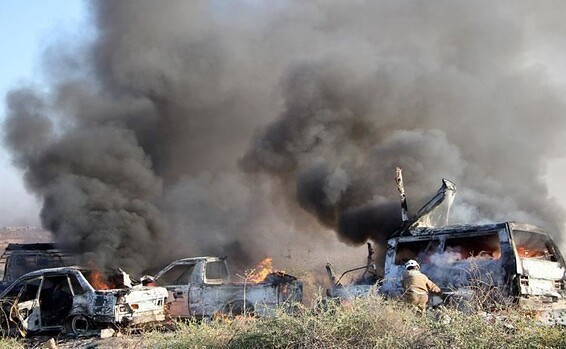 Iran
US Military Convoy Attacked in Iraq By Pro-Iranian Militia
A US military convoy was ambushed in southwestern Iraq on Saturday, as gunmen attacked and torched three large trucks carrying equipment and logistical materials for US forces in the country, according to London-based daily Al-Araby Al-Jadeed.
The trucks were traveling from Basra when they were targeted between Diwaniya and Samawah. Gunmen forced the drivers to exit the vehicles and then set the vehicles on fire, according to the report.
Sources in the Iraqi Interior Ministry told Al-Araby Al-Jadeed that, while it's still too early to say who was behind the attack, it seems to have been carried out by one of the pro-Iranian militias based in the country, rather than the Islamic State group.
According to Lebanon's Hezbollah-affiliated Al Mayadeen TV, US fighter jets could be heard in the vicinity of the reported convoy attack and over Baghdad.
Photos shared on social media reportedly from the scene, showed the trucks engulfed in flames. There were no reports of American casualties in the incident.
Earlier Saturday, unidentified warplanes carried out an airstrike on a convoy that killed 35 pro-Iranian militiamen in the Deir ez-Zor province in eastern Syria, Turkey's Anadolu news agency reported.
The attack occurred in the Albukamal region along the Iraqi border, where Iran has built its sprawling Imam Ali base to safeguard the border crossing between Syria and Iraq.
Read More: Israel Hayom