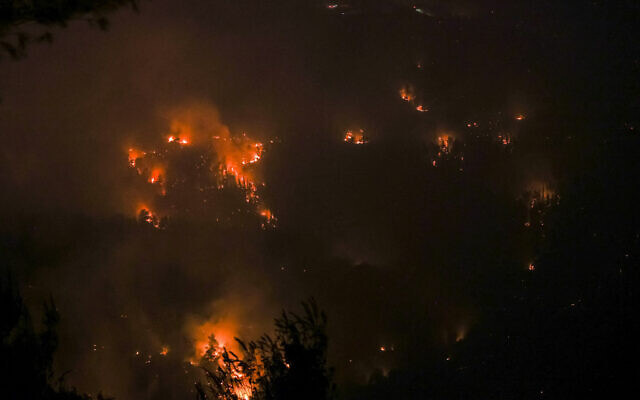 In The News
Report: Investigators increasingly believe Jerusalem-area blaze caused by arson
Fire investigators are seeing growing evidence that the massive fire in the Jerusalem Hills this week was caused by arson, according to a report on Kan news.
The network said that investigators had found forensic evidence on the ground that may be tied to the cause of the blaze.
Meanwhile the Shin Bet security agency is assisting police in its investigation into the fire, suggesting there is suspicion of a potential nationalistic motive.
The huge fire burned through some 25,000 dunams (6,200 acres) of forest outside Jerusalem between Sunday and Tuesday. Over 2,000 people were evacuated from their homes. Several houses were destroyed, though communities were largely spared.
Firefighters had believed that they managed to contain the blaze on Sunday night, but strong morning winds and low humidity on Monday sent the flames roaring back and speeding toward villages and towns throughout the hills on Jerusalem's southwest outskirts, prompting the government to seek international aid. By Tuesday, fire chiefs said that the assistance was no longer needed.
Read More: Times of Israel