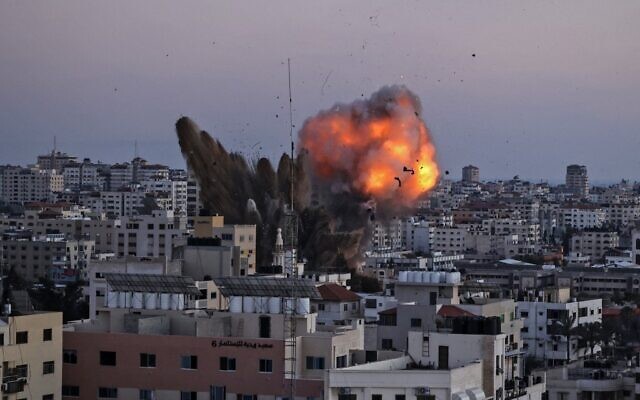 In The News
Report: IDF bombing of Hamas 'metro' smashed miles of tunnels
05/15/2021
The Israel Air Force's massive bombardment of Hamas's internal Gaza tunnel network overnight Thursday-Friday destroyed miles of tunnels and killed what the IDF believes to be dozens of Hamas terrorists, in what it hopes will be a decisive phase of the current conflict, an Israeli TV report said late Friday. "We shut down the Hamas tunnel network," a military source said.
However, a Ma'ariv report on Saturday afternoon quoted unnamed IDF sources saying the onslaught had been less successful than hoped, with no indication that many Hamas operatives had been killed.
The bombing was the largest Israeli strike since the outbreak of fighting earlier this week, the IDF said earlier.
The assault was prefaced by a deliberate ruse in which the IDF indicated to the foreign press that Israeli ground forces had entered the Gaza Strip, in order to trick the terror group into sending its operatives into the tunnels — referred to by the IDF as "the metro" — ready to emerge and attack the Israeli troops. "The tunnels collapsed on those inside" when the IAF bombed them, the TV report noted.
According to the Saturday Ma'ariv report, however, Hamas didn't really "buy" the deception, since it calculated that an Israeli ground offensive would have necessitated cabinet discussion and different preparations by the IDF than those it was witnessing, and therefore Hamas gunmen did not descend en masse into the tunnels.
Some 160 aircraft flying simultaneously conducted the massive attack on the network of tunnels, dug by the Hamas terror group under the northern Gaza Strip, the army said. According to the IDF, in this air campaign, which lasted nearly 40 minutes, some 450 missiles were dropped on 150 targets in northern Gaza, particularly around the city of Beit Lahiya. In all, 80 tons of explosives were used, the TV report said.
Read More: Times of Israel