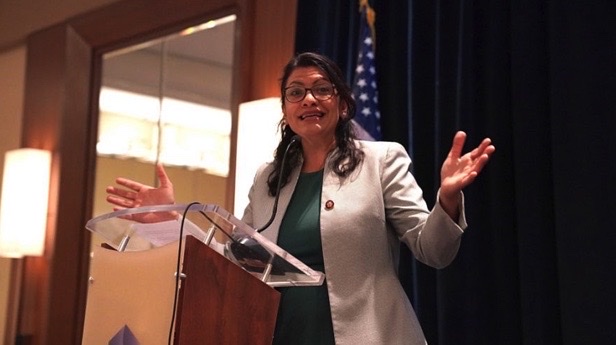 In The News
Rep. Rashida Tlaib, 'squad' introduce 'nakba' resolution
House members led by Rep. Rashida Tlaib (D-Mich.) on Monday introduced a resolution calling for U.S. recognition of the Palestinian "nakba," a term meaning "catastrophe" that is typically used by Palestinians to refer to the establishment of the State of Israel.
"Today, I introduced a resolution recognizing the Nakba (catastrophe), where 400 Palestinian towns and villages were destroyed, over 700,000 Palestinians uprooted from their homes, and made refugees," Tlaib, who is of Palestinian descent, wrote on Twitter.
"The Nakba is well-documented and continues to play out today. We must acknowledge that the humanity of Palestinians is being denied when folks refuse to acknowledge the war crimes and human rights violations in apartheid Israel," she continued.
Tlaib went on to thank the co-sponsors of the resolution, Reps. Alexandria Ocasio-Cortez, Ilhan Omar, Cori Bush, Jamaal Bowman, Betty McCollum and Marie Newman. Along with Tlaib, the first four co-sponsors are members of what is known as "the squad"—six relatively young democratic U.S. House representatives. The sixth "squad" member, Ayanna Pressley of Massachusetts, was not a co-signer.
Read More: JNS