Hamas
We Remember: Israeli Couple Shot While Driving With Their Children
– Rabbi Eitam Henkin and his wife, Naama, left a legacy of love.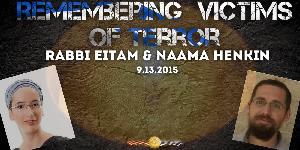 It has been almost a year since Israel began experiencing a surge in terrorism and violent popular uprisings. On Rosh Hashanah last year (September 13, 2015), the first victim in this wave of violence was murdered as he returned home from his family's celebration of the Jewish New Year. Since then, there have been hundreds of individual attacks, over 500 people wounded, and 40 innocent people have been killed. It has been a year of tragedy and terror for many Israelis since that night. As we approach the next Jewish New Year, we want to honor the memories of those we've lost. May each of their lives be a light that is never forgotten.

————————————
Packed in a car with their four young sons – Itamar (9 months), Neta (4), Nitzan (7), and Matan (9) – Rabbi Eitam Henkin and his wife Naama drove home from a reunion of yeshiva graduates on October 1, 2015. The happy family had no idea it would be their last night together.
As Eitam slowed down to round a curve, a Palestinian vehicle driving towards them sped up and the gunmen inside opened fire into the Henkin family's car. Wounded, Eitam stopped the car and got out to try to fight off one of the terrorists as they approached. Another gunman shot and killed Eitam before shooting Naama inside the car, who also tried heroically but unsuccessfully to fight him off. Miraculously, the terrorists left the children unharmed. However, the police investigation indicates that, far from being merciful, the terrorists only spared the children because one of the gunmen accidentally shot one of his partners when he killed Eitam – which forced them to flee before completing their evil mission. While we praise God that the children's lives were spared, our hearts break for these orphans who witnessed the horrific murder of their parents.
Hamas quickly praised the murderers as "heroic," and a few days later the Israel Security Agency announced that a Hamas terror cell from Nablus was behind the attack. A massive manhunt quickly located the terrorists, who confessed to planning the attack and being part of two earlier shootings. The terrorists said they initially planned to kidnap the family, but when Eitam and Naama resisted, they killed the innocent couple instead. The shooting came after weeks of violent protests and another deadly terror attack by Palestinians who were falsely told by their government that Israel was trying to restrict access to Muslim holy sites. As Prime Minister Netanyahu and multiple Israeli officials have repeatedly said, words have consequences and the Palestinian Authority's irresponsible rhetoric incites violence. Yet the Palestinian leadership has faced little scrutiny or condemnation for encouraging an atmosphere of hate that inspires murder.
Israel lost two beautiful souls on October 1, 2015. Eitam, 31, was a dual American-Israeli citizen and the son of Rabbi Yehuda and Chana Henkin who made Aliyah to Israel in the 1970s. Naama, 30, was a graphic artist and self-employed businesswoman in addition to being a devoted mother. Friends and family described the couple as deeply committed to their love for each other and their children. Their neighbor, Shlomit, said, "They were a dream couple, who in life and death were inseparable."
Thousands of Israelis attended Eitam and Naama's funeral in Jerusalem, where their oldest son bravely recited the kaddish (the Mourner's Prayer) for his parents. Eitam's mother described her son's love for his wife, teenage sweethearts who married when they were just 19 and 18, as "powerful." She vowed that she and Eitam's father, Rabbi Yehuda, would raise their four grandchildren and love them as their own. In a tragic twist of fate, President Rueven Rivlin shared that Naama had written him a letter in June that year after a young Israeli had been murdered and that Rivlin had promised her Israel would not forget the terror victims or their families.
"I promised that I would continue to embrace the terror victims and visit every home in which the lights have been extinguished forever. I didn't think, it didn't occur to me, that your light would go out, and I, we, would embrace your children," Israel's President said in his eulogy.
The brutal murder of two young parents in front of their children shook not only the Jewish members of the community, but also a Palestinian woman who bravely voiced her sorrow and expressed a public apology on Facebook for the actions of the terrorists. Her courage in doing so is commendable, and thousands of people responded positively to her post, though unfortunately it also made her a target for threats. Nevertheless, Thanaa Jawabreh did not back down but instead demanded that Arab officials join her in condemning the murder of innocents. She said, "It was important to me to represent people who believe as I do but are not willing to say so. I join in the mourning of this family, and may we not hear of more such incidents."
The loss of Eitam and Naama left a painful hole in their community of Neriya. The two young people were deeply loved by their neighbors, and shortly after their death one woman wrote that it felt like a horror that would never heal. A few days after the Henkins were murdered, the Jewish holiday of Simchat Torah arrived and the community was determined to do their best to make it a happy day for the Henkin children despite their recent loss.
One of the wonderful things about Israel is the way neighbors and total strangers come together to support the families who suffer these tragedies. So it is not surprising that when the holiday arrived the community was flooded with gifts of candy, food, and messages of love and unity from people near and far. The women of the village honored Naama's wish to have a special Torah class for the women during the holiday while the men danced, and Eitam's mother spoke to them. With this uniquely Israeli display of solidarity and love in the midst of mourning, the town of Neriya honored Eitam and Naama and comforted their family.
Almost a year has passed since Israel lost two innocent, wonderful people to this wave of violence stirred up by senseless hatred. Their four boys are orphans, and the youngest will have no direct memory of his parents. Outside of Israel, there has been almost no outcry over these murders.
Anyone who has lost a loved one knows how difficult the first year can be as each new milestone must be marked without the presence of the one who was taken away. Rosh Hashanah is approaching, and in a few weeks the Henkin family will celebrate the start of a new Jewish year with two empty chairs around the table. Let's show them they are not alone, and the memory of Eitam and Naama has not been forgotten.
One of the hardest things about losing someone is that the rest of the world moves on, and forgets your pain. But at Christians United for Israel we are resolved not to forget. Just as the Lord has the names of His people written on His hands, we have these names written on our hearts. We will remember Eitam and Naama Henkin and make sure their lights are never extinguished. Help us show our love for the Henkin family by sharing their story with everyone you know.