Hamas
Rare protest against 'Hamas murderers' erupts in Gaza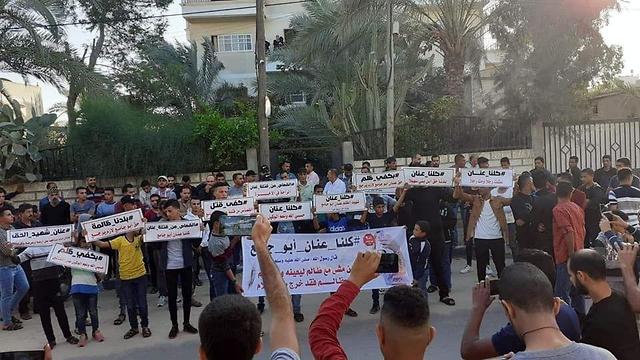 A rare public anti-Hamas protest took place in Gaza following the death of a 28-year-old man who'd been thrown from the window of his own home by the terror group's security services.
Three Hamas police officers arrived at the home of Anan Abu Jameh in the city of Khan Yunis in southern Gaza last Friday. According to the family, the security forces went upstairs to his room, arrested him and then threw him out of the window of his room. He sustained a serious injury to his head and later died from his wounds in the hospital.
"They knocked on the door very hard and as soon as I opened it they said, 'We want Anan,'" said the father. He said he had asked to see a search warrant but was pushed aside by Hamas men who told him they will "do whatever we want."
The 28-year-old had recently graduated from a local university with a degree in communications and journalism.
The incident led to an uproar among the local residents, who labeled Anan's death as a "cold-blooded murder." The subsequent protests forced the Hamas police spokesman to make a statement, presenting a different version of events where the 28-year-old was arrested based on a warrant for his arrest.
The police did not specify what the victim was accused of, but claimed Abu Jameh tried to evade the arrest by jumping from his window onto the nearby tree, from where he fell and sustained fatal wounds.
Abu Jameh's family rejected the police's account of events, calling it a gross lie. The family also added the police didn't try to investigate the circumstances of their son's death at any point.
During Abu Jameh's funeral in Khan Younis a rare anti-Hamas demonstration erupted, with the participants chanting: "Hamas are murderers."
The demonstration then moved from the cemetery to the Adu Jameh's family home where dozens of people held banners and signs, saying "We are all Anan," and "End the oppression," as well as signs calling for justice to be served.
Some organizations in the enclave called on Hamas to set up a committee to investigate the circumstances of the 28-year-old death. Gaza's rulers, however, have so far refrained from doing so.
Read more: Ynet News