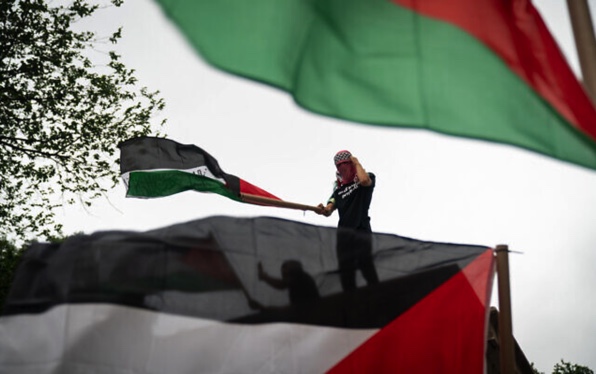 In The News
Pro-Palestinian protesters allegedly attack man with Israeli flag in New York
Pro-Palestinian protesters allegedly assaulted a man holding an Israeli flag during an anti-Israel demonstration in New York City on Wednesday.
Police were investigating the case as a possible bias incident.
The 28-year-old victim said he was walking down the street when men from the protest pointed out an Israeli flag he was holding.
One of the protesters approached the victim and punched him, knocking him to the ground, then kicked him while he was down.
The alleged attack took place at the corner of East 42nd street and Lexington avenue in Manhattan at around 6:15 p.m., a little over an hour after the start of the protest.
The victim was treated for swelling, bruising and redness to the face.
The suspect is a man around 5 feet 10 inches tall, 170 pounds, with short brown hair, police told The Times of Israel.
The New York Police Department's Hate Crimes Unit was notified.
Read More: Times of Israel