Antisemitism
Pope Francis condemns anti-Semitism in address from St. Peter's Square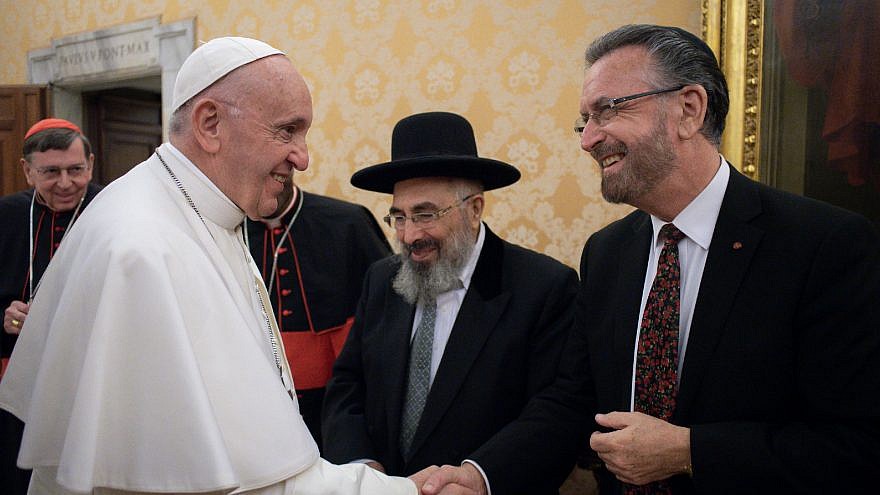 (November 15, 2019 / JNS) Pope Francis denounced anti-Semitism against Jews worldwide on Tuesday during his weekly general audience.
Addressing crowds in St Peter's Square, the pope reflected on the lives of Priscilla and Aquila, a first-century married couple who accompanied St. Paul in his ministry and were among the Jews expelled from Rome by Claudius Caesar.
The world has "seen so many brutalities done against the Jewish people, and we were convinced that this was over," the pope said, according to Catholic News Service. "But today, the habit of persecuting Jews is beginning to be reborn. Brothers and sisters: This is neither human nor Christian; the Jews are our brothers and sisters, and must not be persecuted! Understood?"
Pope Francis' condemnation of anti-Semitic hatred against Jews follows an escalation of anti-Semitic violence and vandalism in Europe and the United States.
It was reported last week that 89-year-old Italian Holocaust survivor Liliana Segre was given police protection after receiving daily threats from far-right extremists on social media.
Segre last month called for the establishment of a formal commission to investigate hate and anti-Semitism in Italy. Italian far-right and nationalist parties abstained on the vote, but the commission was still approved with the support of other parties.
On Sunday, in Denmark and Sweden, neo-Nazi groups placed yellow Stars of David inscribed with the German word "Jude" ("Jew") on Jewish gravestones, homes and businesses, The Times of Israel reported.
In the United States, 2018 Hate Crime Statistics released on Tuesday by the FBI revealed that of the 1,617 victims of anti-religious hate crimes reported in the country, some "56.9 percent were victims of crimes motivated by offenders' anti-Jewish bias."
Read more: Jewish News Syndicate