US-Israel Relationship
Pompeo lands in Israel to meet Netanyahu, discuss regional security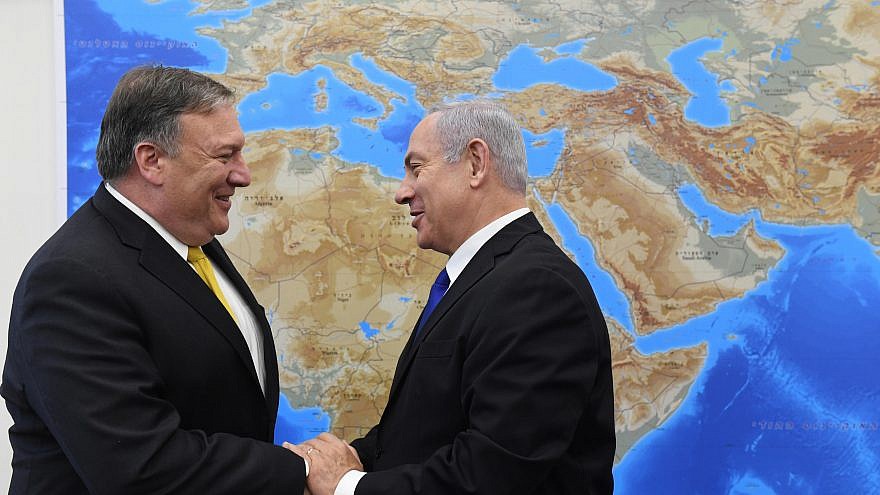 (October 18, 2019 / JNS) U.S. Secretary of State Mike Pompeo arrived in Israel late Thursday night for a meeting with Israeli Prime Minister Benjamin Netanyahu to discuss regional issues, including the current conflict in Syria.
Pompeo flew from Turkey, where he had joined U.S. Vice President Mike Pence in what was described as a cold meeting with Turkish President Tayyip Erdoğan regarding the Turkish bombardment of Kurdish northern Syria.
The secretary of state was met at Ben-Gurion International Airport by U.S. Ambassador to Israel David Friedman and head of the North America Bureau at the Israel Foreign Ministry, Ambassador Zvi Aviner.
"Good to be in #Israel today and look forward to meeting and discussing a range of important issues, including regional developments and threats, and the security of America's closest ally and partner," Pompeo wrote on Twitter after landing.
A U.S. State Department statement on Wednesday said the meeting was set to "discuss developments in Syria and the continued need to counter the Iranian regime's destabilizing behavior in the region."
Reports indicate that, following the meeting and a letter from U.S. President Donald Trump urging him not to be a "tough guy" or "fool," and to put a halt to bombardments in Syria, Erdoğan agreed to a ceasefire.
Subsequent reports, however, indicate that eyewitnesses said the shelling was still underway.
Read more: Jewish News Syndicate