Iran
PM presents 'conclusive proof' Iran lied 'big time' about nuclear program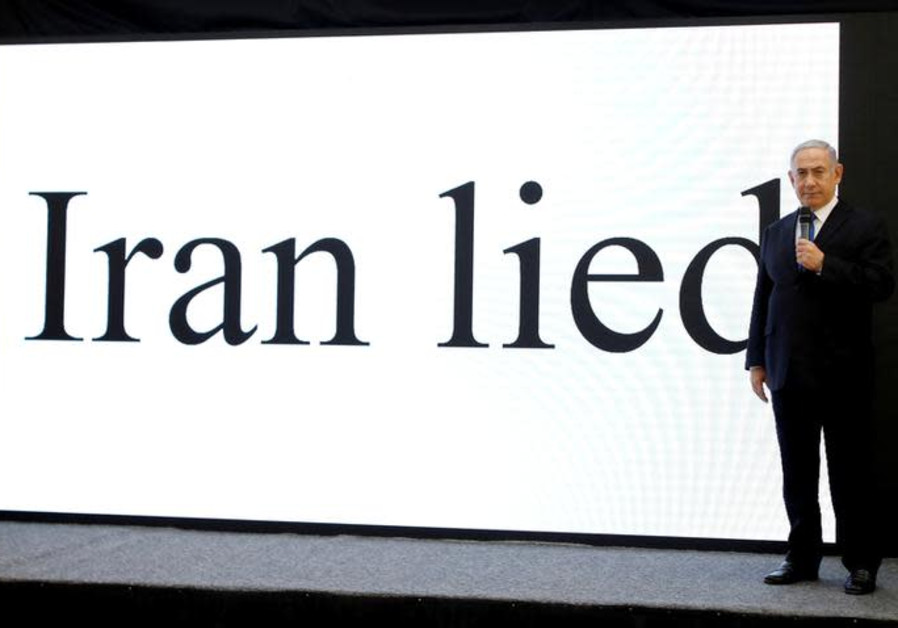 Prime Minister Benjamin Netanyahu revealed Monday evening what he said was "conclusive proof" of a secret project underway in Iran for the development of a nuclear weapon—evidence that he said proved that Tehran had lied "big time" to the international community.
"Tonight I will show you something that the world has never seen," Netanyahu began as he opened his remarks on what he said was a "significant development regarding the nuclear agreement with Iran" at the Kiryah military headquarters in Tel Aviv.
Israel had obtained, he said, in a "great intelligence achievement," secrets comprising 55,000 pages that prove "Iran has been hiding for years from the international community" its nuclear weapons development program.
The prime minister, who delivered the speech in both English and Hebrew, began by presenting his listeners with two separate excerpts from past speeches by Iranian President Hassan Rouhani and Foreign Minister Mohammad Javad Zarif in which the two dened in international forum any intentions to obtain a nuclear weapon.
"We never wanted to produce a bomb," Zarif is heard saying in a recording played once at the beginning, and twice at the end of the speech at Netanyahu's insistence. "Yes you did. Yes you do," Netanyahu said.
Netanyahu spoke by phone with US President Donald Trump over the weekend about Iran, according to the White House.
A statement on Sunday said: "The two leaders discussed the continuing threats and challenges facing the Middle East region, especially the problems posed by the Iranian regime's destabilizing activities."
Netanyahu met in Tel Aviv with new US Secretary of State Mike Pompeo on Sunday and both spoke in strong terms about Iran.
"We remain deeply concerned about Iran's dangerous escalation of threats towards Israel and the region," said Pompeo at a joint press conference.
Netanyahu told Pompeo that "I think the greatest threat to the world and to our two countries, and to all countries, is the marriage of militant Islam with nuclear weapons, and specifically the attempt of Iran to acquire nuclear weapons."
Trump has threatened to withdraw from the 2015 agreement reached between Iran and global powers, which granted Tehran relief from economic sanctions in return for curbs to its nuclear program.
Read More: Y Net