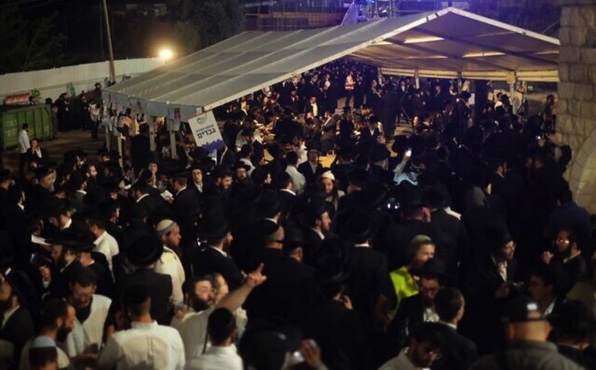 In The News
Pilgrims return to Meron for downsized event, a year after crush that killed 45
Worshipers returned to Mount Meron on Wednesday night for Lag B'omer celebrations, a year after 45 people were killed in a deadly crush that was the worst civil disaster in Israeli history.
Minor clashes were reported between guards and extremists who threatened to break into the area around the tomb of Rabbi Shimon Bar Yochai on the mountain, during the downsized annual event. Ahead of the event several pilgrims were arrested after being found with sabotage equipment, apparently aiming to derail the efforts to limit the event.
Approximately 8,000 policemen were deployed to the area around the tomb to ensure the safety of attendees.
Thousands of pilgrims descended on Mount Meron for ceremonies marking the anniversary of the rabbi's death some 19 centuries ago.
Pilgrims held a special memorial ceremony for the victims trampled to death last year, lighting candles and reading out their names to somber music, ahead of the lighting of the main Lag B'Omer bonfire.
Read More: Times of Israel