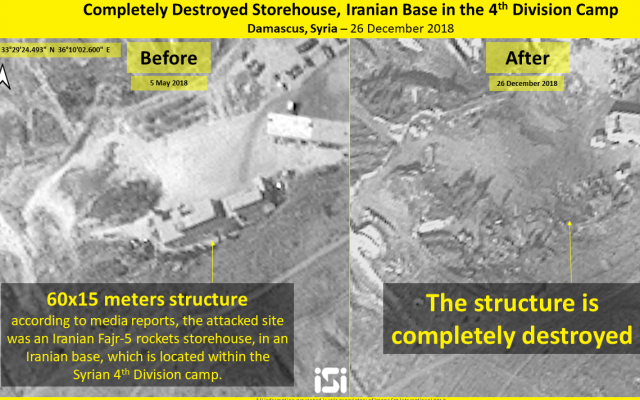 Iran
Photos said to show Iranian warehouse flattened by Israeli strike in Syria
Satellite images show the extent of damage from an alleged Israeli strike in Syria this week, with one photo indicating that a large storage facility was completely destroyed, an Israeli satellite imaging company said Thursday.
The photos, taken December 26 and published by ImageSat International, were of the remains of an Iranian warehouse at a base belonging to the Syrian army's 4th division and located west of the capital Damascus, the company said. The 900-square-meter (8,000 square foot) structure appeared to have been obliterated by the attack, it said.
However, by contrast, the images showed no evidence of an attack at Damascus airport. Initial media reports of the airstrike had speculated that a 747 cargo jet, belonging to Iran's Fars Air Qeshm, had been targeted after it landed at the airport.
The civilian company has been accused on multiple occasions of smuggling Iranian arms to Hezbollah, an Iranian-backed Lebanese terror group that fought Israel in a 2006 war, and media speculated that its cargo had been the target of the strikes.
An Israeli security official confirmed to the Associated Press on Wednesday that Israel carried out the overnight airstrike in Syria, saying a series of Iranian targets were hit.
Read More: Times of Israel