US-Israel Relationship
Pence: Trump 'actively considering' moving US embassy to Jerusalem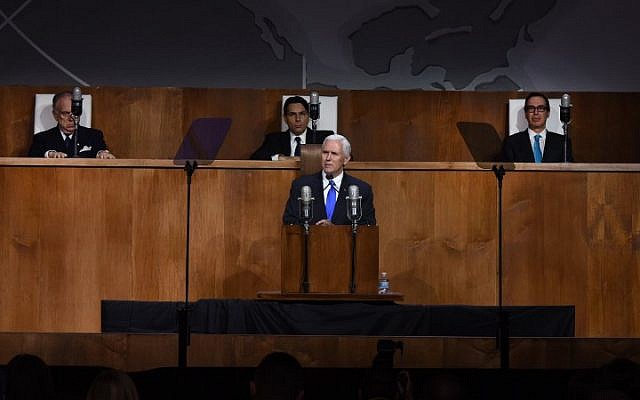 US President Donald Trump is "actively considering" moving the US embassy in Israel from Tel Aviv to Jerusalem, his vice president said Tuesday, evoking a campaign promise that the administration had sidelined.
Mike Pence made the remarks in a keynote address at an event in New York commemorating the 70th anniversary of the UN vote for partition of Palestine, which led to the creation of the State of Israel.
"President Donald Trump is actively considering when and how to move the American embassy in Israel from Tel Aviv to Jerusalem," Pence told the gathering of UN ambassadors, diplomats and Jewish leaders, hosted by Israel's Ambassador to the UN Danny Danon.
The UN General Assembly on November 29, 1947 passed a resolution adopting a plan on partitioning British-mandated Palestine to establish a Jewish state. Of the 56 members of the UN at the time, 33 voted in favor, 13 against and 10 abstained, enabling the establishment of Israel the following year. In keeping with Jewish tradition, the celebration was held on the eve of the historic date.
"Israel didn't need a resolution to call for its existence, because its right to exist is self-evident, and timeless," Pence said. "While Israel was built by human hands, it's impossible not to see the hand of heaven here, too."
The US vice president received a standing ovation from the audience at the Queens Museum, site of the original United Nations vote in 1947.
Trump has so far balked at moving the US mission to Israel's capital, despite initial anticipation among many Israeli and American Jews that he would make good on that election campaign promise.
Right-wing Israeli leaders have been lobbying for the embassy move. Some, however, have reportedly expressed private worries that it could inflame regional tensions. The Palestinians have vociferously objected to the US proposal, citing their claim to East Jerusalem as their future capital.
Read More: Times of Israel