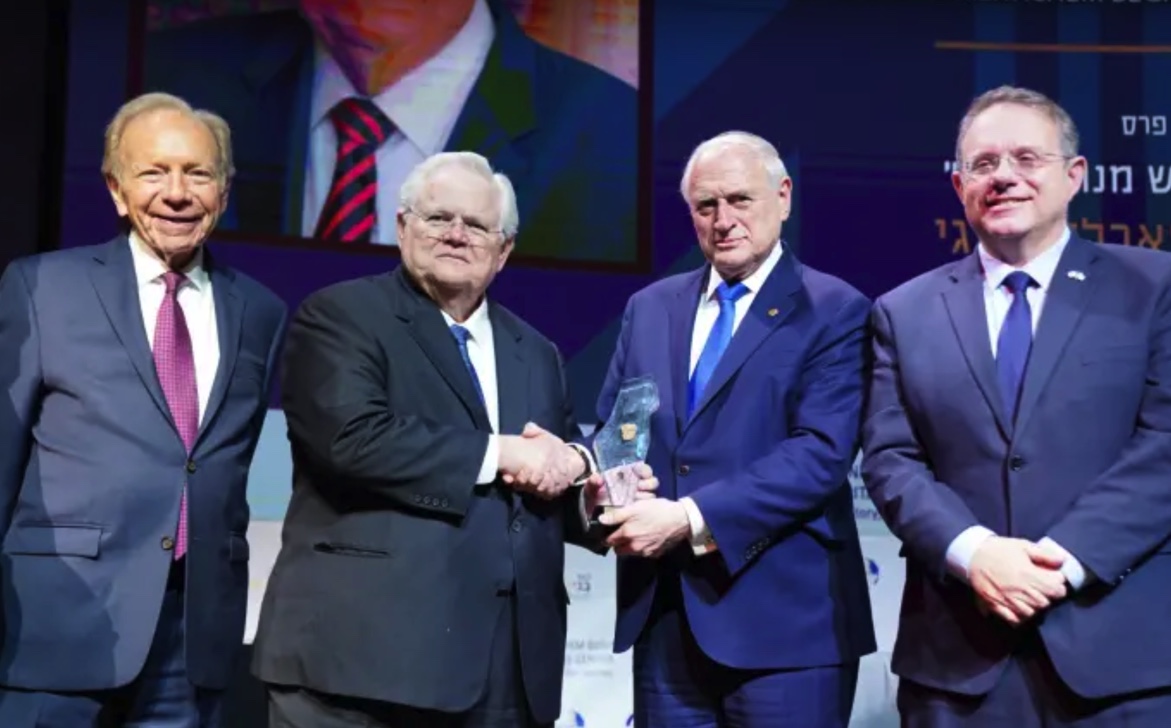 In The News
Pastor John Hagee: Israel must never allow Iran to get a nuclear bomb
"Israel must never allow Iran to get a nuclear bomb" was the message that Christians United for Israel Founder Pastor John Hagee drove home Sunday night in a speech at the Menachem Begin Heritage Center.
He said that Iran's "maniacal dream" of wiping Israel off the map is not dead, and that he and his 11.5 million Christian followers would continue to defend the State of Israel.
Hagee was honored by the center at is annual Begin Symposium with the Support of Israel Award, including a glass statuette of the biblical map of Israel with a piece of Temple Mount stone embedded inside.
CUFI is well known for its Nights to Honor Israel, which draw tens of thousands of people at churches across the United States each year. Those events started in 1981, he shared with the crowd, in response to when Menachem Begin ordered the attack on the Osirak nuclear research reactor in Iraq.
"The US media attacked it, and I realized that this was the moment to organize an evening in which we would encourage Israel and cherish its importance," Hagee said. "I tell the Americans, when you love someone, you don't tell them that but show it to them. Show it to the Israelis all the time, as much as possible and always stand by them now that she needs you against Iran."
Those evenings and other CUFI efforts have raised more than $115 million, which has been given "to bless and benefit the Jewish state," according to Hagee. This includes $2.5 million that has recently been raised to help resettled Jewish Ukrainian refugees in Israel.
Read More: The Jerusalem Post