Israeli Technology
Paralyzed man finishes London Marathon aided by Israeli robotic suit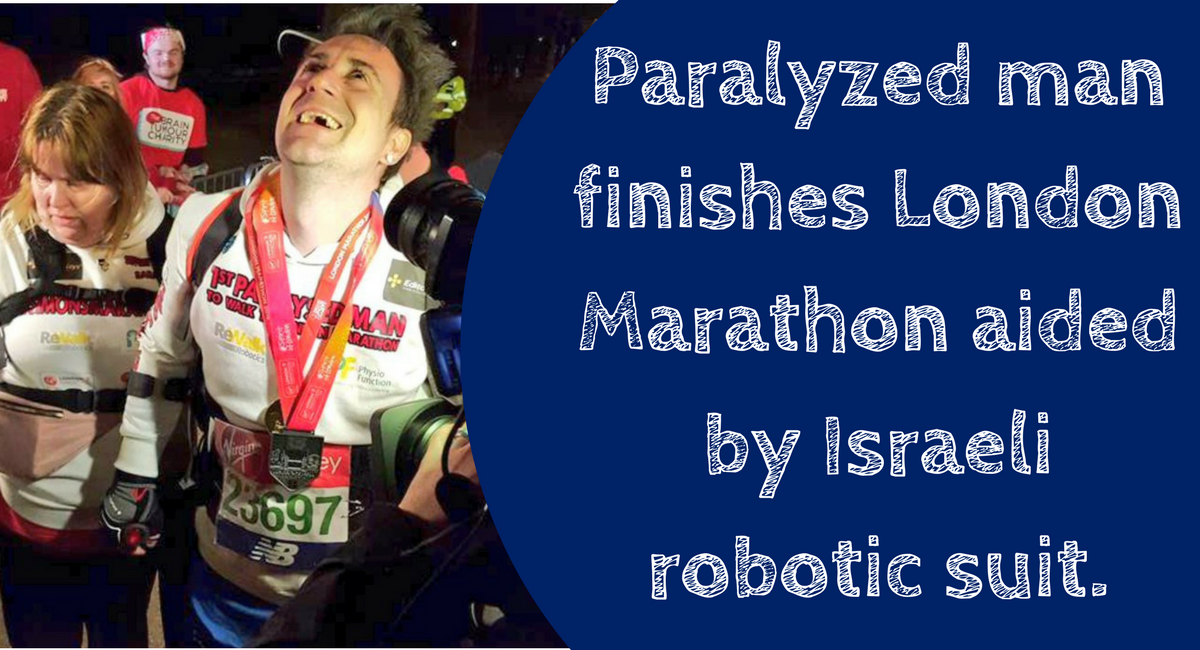 Simon Kindleysides of Norfolk, England became the first paralyzed man to finish the London Marathon on Monday, an astonishing feat which took him 36 hours to complete.
He was able to walk the entire 26.2 mile course with the help of the the ReWalk robotic exoskeleton suit, a wearable device developed in Israel that allows paraplegics to mimic the function of the legs and hips.
The 34-year-old father of three ran in support of a charity that funds brain tumor research, for which he managed to raise over 10,000 euros. On his crowdfunding page he wrote:
"I want to be a HUGE role model not just to my children but to others out there who are 'disabled' and don't get enough credit and to people who don't think they can do stuff."
His social media accounts were awash with praise and congratulations following the historic event. Well-wishers called him an "inspiration" and lauded him for "breaking barriers."
The London Marathon dubbed him #SpiritofLondon award winner for 2018, and despite not winning any official medals, he received numerous donation medals from spectators and supporters.
Though Kindleysides is the first paralyzed man to have completed the London Marathon, he is not the first paralyzed person to do so. In 2012, Claire Lomas made headlines when she became the first paraplegic to complete the course (also with the help of ReWalk), a challenge that took her 17 days. Her accomplishment also granted her the honor of lighting a torch at Trafalgar Square ahead of that year's Paralympics.
Claire, who was paralyzed in a horse-riding accident, said the ReWalk suit is "brilliant" and has been invaluable to her.
ReWalk was originally created two decades ago by mechanical engineer Amit Goffer. He began working on the device after a road accident left him paralyzed in 1998. The bionic suit has since helped  people around the world regain relative independence and autonomy over their bodies.
Read More: J Post